Dear Metrophile,
This year at Metropolitan Playhouse, audiences have traveled from a Harlem drawing room to a Lower East Side dive, from an Austrian mountain wedding to an Upper East Side funeral, from a Bowery rooftop dance to a Wild West rodeo—all in a 50 seat theater on the second floor of East 4th Street. The magic of Metropolitan Playhouse is sleight of hand: we pull rabbits (and sometimes buffalo) out of hats. I hope you will continue to help us cast our spells.

Metropolitan's craft amazes because of its simplicity, which is ever more enchanting and needful in an increasingly complicated world. In a bedlam of digital distractions, we bring stories to close-up, real world life. In a bazaar of commonplace entertainments, we offer a unique and personal experience. In a world of anonymous likes and shares, we bring audiences and artists together in our intimate home for actual…sharing. In a cacophony of distortions of American virtue, we explore the roots of our country's values.

But, Metropolitan is not sheltered from the changing environment. Foundation, corporate, and government supporters are checking their generosity. News outlets are reducing their listings and eliminating reviews. Small theaters across Manhattan have disappeared as costs race ever uphill.

Even so, in our 26th Season, devoted to American plays about resilience, we are committed to growing stronger.
Looking to the very personal connection that makes our theater special, we count all the more on our growing family of supporters.
Be assured that a contribution of any size will do a great deal keep the magic of Metropolitan alive.


We have also initiated two special funding opportunities this year. Honoring gifted actor and dear friend
Kelly King
, who passed away following a bicycle accident this fall, his family invites contributions to the Playhouse, which we will dedicate to compensating actors who share his passion.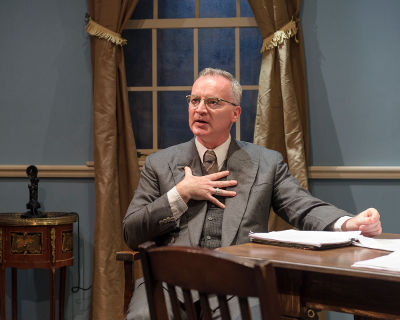 Kelly as Simeon Gray in Maxwell Anderson's
Both Your Houses
photo: © Jacob J. Goldberg Photography
And at our benefit last spring, we inaugurated a program for
paid apprenticeships
, helping us train young theater artists as they help us pull off greater feats.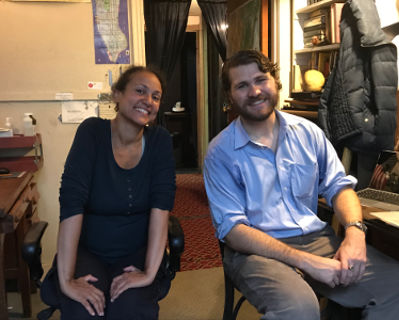 Producing Apprentice Mike McDavid
(with new Assistant Producer Tara Bahna-James)
However you care to, I invite you to help keep us conjuring.
Wishing you the very best of the holidays and the happiest new year,

Alex Roe
Artistic Director
Click an amount below to donate online
or click the reply card below for a printable version

We use PayPal to process credit cards, but you do NOT need a PayPal account.
Choose the "Pay with Credit Card" option from the next screen to use any credit or debit card.