nytheatre.com
by Martin Denton ·
March 9, 2007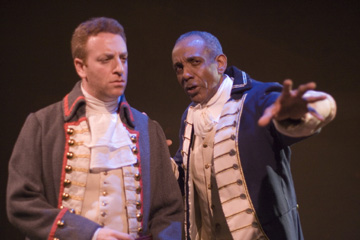 Major John Andre was the English soldier who convinced Benedict Arnold to betray his country during the American Revolutionary War. I've actually encountered him in the theatre before: he's a major character in Kirk Wood Bromley's 1999 play The American Revolution, which speculates about Arnold's motivations in fairly modern terms. But Andre also figures in the play that bears his name, which is currently being presented by Metropolitan Playhouse in what I would guess is its first NYC engagement in decades. Andre was written by William Dunlap in 1798, making it one of the very first American tragedies and one that was first produced nearly contemporaneously with the events it depicts. It's a fascinating piece of historiana; buffs of American history and drama will want to catch this rare revival.
Andre tells the story of this British officer-turned-spy with surprising sympathy. Evidently, Major Andre was very well-liked by the Americans who got to know him, and his downfall—viewed as ignominious by Dunlap, but presumably motivated by the same impulse that made Nathan Hale one of America's first national heroes—turned him into a kind of tragic figure.
As the play begins, Andre and Arnold have already been arrested and tried, and Andre is in prison awaiting his execution. All that he wants is have the means altered, from the planned ignoble hanging to death by firing squad as befits an officer.
However, several people want Andre to live. Chief among these is a young American soldier named Bland, who literally owes his life to the gallant British officer. Bland's father, also in the Revolutionary Army, is being held prisoner by the British, and for a while it appears that they may retaliate for the death of Andre by executing the senior Bland. Also distraught by Andre's imminent demise is Honora, the woman he loves. She, young Bland, and the elder Bland's wife make eloquent pleas to General Washington, but he is adamant that Andre must die. Everybody who saw Andre when it premiered 200 years ago knew how the story ended before they walked into the theatre, so it's not giving anything away to tell you that Washington prevails. Hearing the play today, it feels like Dunlap thought he might be creating an enduring martyr-like figure in his play, but both theatrical and political history wound up working against him, and so instead Andre and Andre are both pretty much obscure footnotes.
So it's interesting to see this play on its feet, albeit in a drastically cut version (that also features a prologue not in the original text). Dunlap was trying to emulate Shakespeare, but he's by no means the Bard's equal; his attempts at high-flying lyricism mostly fall flat, and they sound jarringly un-American on his mostly Colonial cast of characters' lips. But his story-telling powers are sharp, and his characterizations and themes feel startlingly prescient. Dunlap understood intuitively what a Melting Pot America was going to become, and he celebrates the still-young nation's diversity and pluck as defining strengths.
Director Elfin Frederick Vogel places emphasis on some of Washington's speeches about his irrefutability as Commander-in-Chief, reminding us that our current President is not the first to flaunt a command-and-control posture. But the portrait of Washington in Andre is, overall, beyond respectful; one of the thoughts I took away from this play was that the depth of the country's feeling for Washington would probably be impossible and unfathomable today.
Vogel's production features some expert performances, notably Chris Harcum as both Andre's commanding officer Sir Henry Clinton and Melville, one of the American soldiers guarding Andre before his death sentence is to be carried out; Suzanne Savoy as Mrs. Bland; and Kathleen Dobbs as the grieving Honora. Michael Hardart played Bland at the performance attended and created a convincingly conflicted characterization (the role is normally played by Joseph Yeargain).
Andre offers a tantalizing introduction to a now-mostly-forgotten episode in American history, as well as a fascinating glimpse at the first native attempts to put great events onto the nascent American stage. It's another neat find for the folks at Metropolitan Playhouse, and we should be grateful to them for putting this unfamiliar artifact before us.

Jacob C. Mirer and Lee Dobson
Photo ©
Michelle DeBlasi