by Martin Denton · May 5, 2006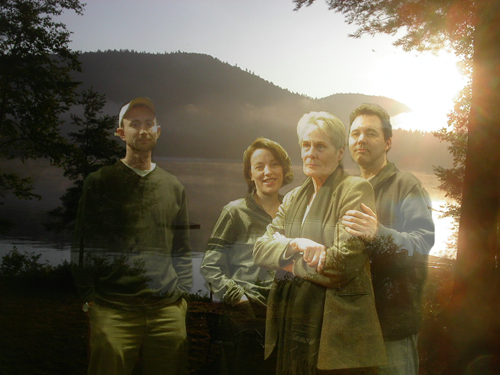 A program note tells us that

Haunted

takes place in the future: in June 2006, one m
onth from right now. It's a facetious touch, one of many tongue-in-cheek elements included in this production intended, I think, to throw the audience off the scent of what its creators really have in mind. I'm not sure that all of this disarming is strictly necessary, for

Haunted

is mostly a deft, involving drama about a family coming to terms with itself, staged and acted with care and acuity at one of my favorite downtown theatres by a company brimming with talent and skill.

The story begins on a very dark summer night at a cabin in the town of Holderness, New Hampshire, a mountain/lake community about 75 miles north of Boston (it's where

On Golden Pond

was filmed). Katherine Keene, a divorced New Yorker of 40, has come up to this, her family's "camp," for a quiet weekend with her boyfriend, Marc, who is 28. It's clear that their relationship is still young, but also that it's serious, or at least potentially so; this trip feels like a test for both of them—him as a fish out of water in this remote and unworldly setting, and her as a woman recovering from a damaging relationship that went on too long, tentatively easing into another that might prove more suitable.

Complications arise fairly soon with the arrival of Katherine's mother, Genie, and her brother, Richard. The two have been staying in the family farmhouse across the lake from this cabin; with them comes Andy LeFresne, a local who looks in on Genie (and, until he died, Genie's late husband Peter) during the long stretches when Richard is in Boston with his life partner. Richard is visiting Genie because he's become worried about her health: it appears that she has started talking to Peter (which we witness more than one time during the play; is his ghost really present?). Is she eccentric? Dotty? Senile? (To playwright Alex Roe's credit, we're never quite sure.)
Richard unearths some family history that might better be left alone; he also has authentic concerns about the economics and practicality of Genie's living out here in the country on her own, without modern conveniences and with most of the neighbors having departed the area. This is a way of life that's disappearing—Genie and the Keene household are becoming ghosts themselves.

Marc befriends a little girl named Heather as he wanders around the lake; nobody in the family seems to know who she is (and while some are able to see her, others, apparently, cannot). Is she yet another spectral presence in this isolated spot where past and present are colliding?

And what's the thing that's gnawing at Katherine, preventing her from breaking away from her old damaged existence with her ex-husband and fully committing to her new life with Marc?



Haunted

eventually answers all of these questions satisfyingly, and the journey—if a bit leisurely at times—is always compelling because Roe and his cast have crafted believable, compelling, articulate characters that we are eager to meet and know better. The script could probably use some tightening, though, and perhaps some of the red herrings that pepper it might be better eliminated.

Roe's staging—on a marvelously evocative set that he also designed—is terrific, creating a clear and distinct sense of place and of history. The cast is excellent, with Teresa Kelsey a warm, yearning presence at the center of the story as Katherine (I love how each of the other characters has a different nickname for her), and Tod Mason (Richard) and Charlotte Hampden (Genie) very effective as the other members of her immediate family. Greg LoProto is splendid as Marc, finding his way on alien turf both literally (the city boy trying to cope with country life, a la

Green Acres

) and metaphorically (discovering the secrets and his place within Katherine's heart). Andrew Firda provides his usual expert acting as caretaker Andy, offering some charming moments of quiet humor throughout.

Metropolitan Playhouse doesn't often produce brand-new plays such as this one; I'm happy to say that they've worked their usual magic on the piece, and more significantly they've found in this new play what they almost always find in the neglected classics that are their more usual fare: the keys to the American soul, locked deep inside our common history and heritage.

Haunted

ultimately is about ghosts shared by all of us, in our families and in our pasts.

Andrew Firda, Teresa Kelsey, Charlotte Hampden, and Tod Mason