BACKSTAGE

Reviewed by Victor Gluck
Published on BackStage.com on November 22, 2005.
Copyright 2005 VNU Business Media, Inc. All rights reserved.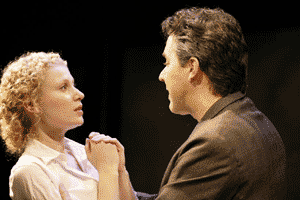 English only. The Patriot Act. My country, right or wrong.
Today's world? Think again. Susan Glaspell's remarkably prescient 1921 drama

Inheritors

deals with all of these subjects, which in those days were called Americanism, the Espionage Act, and "our sort of people." The play's depiction of America at a crossroads presents the same battles being fought today. The Metropolitan Playhouse has resurrected this lost gem in a thrilling production by Yvonne Opffer Conybeare featuring impassioned performances by David Fraioli and Margaret Loesser Robinson that threaten to blow the roof off the theatre.

Glaspell was the second woman to win the Pulitzer Prize for drama and co-founder of the Provincetown Players. Why, then, has Inheritors been forgotten? As a woman playwright, Glaspell was relegated to obscurity, and of the play's four acts, the second is didactic and preachy. Otherwise,

Inheritors

might be the great American play.

In 1879, maverick Silas Morton defies family and realtors to establish a college on a prime piece of Midwestern land as his tribute to the democratic spirit of the Indians who first owned it and to the value of education. On the 40th anniversary of the college's founding, two Hindu nationalists (the new Indians) are arrested on campus for protesting the repressive government of India. Madeleine, Morton's granddaughter, comes to their aid and is arrested. The confrontations that follow examine democracy, xenophobia, materialism, class hatred, and reactionary politics.

At first Fraioli's eyes blaze with excitement as Morton; then, in the dual role of Morton's crazed son Ira, those eyes blaze with hatred. Robinson makes Madeleine's journey towards enlightenment deeply involving. As her Uncle Felix, a banker, Tod Mason is a portrait of the perfect hypocrite. Peter Judd as Professor Holden delineates the intellectual who will not compromise his ideals. As Felix's spoiled son Horace, Jeff Pagliano is the exemplar of the self-righteous bigot.


nytheatre.com
Martin Denton · November 19, 2005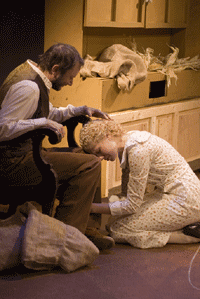 At a historical moment when the patriotism of, say, a decorated veteran with more than 50 years of public service in the Marines and Congress is challenged because he voices opposition to the administration's policies (here)—at such a moment, a play like Susan Glaspell's

Inheritors

proves very pertinent indeed. Set just after World War I, at the time of the Red Scare (fear that the then very recent Russian Revolution would explode in additional Communist revolts worldwide) and a simultaneous retreat into isolationism here in the U.S., Inheritors is about a young woman who speaks out against the suppression of political speech and opinions by the government. In doing so, she puts herself at great peril (i.e., she is likely to go to jail, possibly for a very long time).


Now why does Madeliene Fejevary Morton, our heroine, choose this course of action? Because she understands that, as an American, not only may she do so, in fact she must do so: "I think I'm an American," she declares. "And for that reason [emphasis mine] I think I have something to say about America."


Her family—her father, uncle, aunt, cousin; even a so-called "radical" professor at Morton College, the institution she attends, which was founded by her grandfather 40 years before—all want her to reconsider what she sees as her duty. A variety of arguments are proffered: her aunt explains that she'll miss out on other important things in life, such as love and family, if she's locked away in prison; her father worries for his own health and sanity (having lost his only son in the war and his wife long ago to terrible tragedy); her uncle, who is president of the college's Board, fears for the health of the school and, therefore, the family's legacy.


Everybody has a point, of course, but Glaspell is resolutely the ideologue in Inheritors, which makes it perhaps less satisfying psychologically than it could be, but enormously resonant philosophically, at least right now. It's an epic play that she's written, spanning a century of American life, from the character of Madeliene's extraordinary grandmother, who was the first white woman to settle this section of the Midwest (the particular state is never named) back in 1820, through Madeliene's own revolutionary journey in 1920. And within the play's four acts, we meet a lot of different kinds of Americans, and hear them explain what they think that means. Grandmother Morton, the true pioneer, brags about her own role in the Blackhawk war of 1832 ("I threw an Indian in the cellar and stood on the door. I was heavier then.") and, moments later, tells us that the Indians were great friends to them when they arrived in the wilderness, and that the land was more or less stolen out from under them and, for all that, that the land is hers. (If all of the foregoing isn't precisely American, then I don't know what is!)


Silas, her son, wants to leave a legacy not only of money and property but of something returned to the land he inherited—this is why he gives away the best parcel of all and founds Morton College on it. Felix Fejevary, Silas's best friend and neighbor, fled from his native Hungary to escape political oppression there; in the American Midwest, he awakens Silas's curious and generous spirit and turns his thinking outward. Madeliene says, "They're people from the other side of the world who came here believing in us, drawn from the far side of the world by things we say about ourselves. Well, I'm going to pretend—just for fun—that the things we say about ourselves are true." She says this to her uncle, Felix's son; she's talking about the Indian nationalists that she's been defending, but she could just as well be speaking of her Hungarian immigrant grandfather. Glaspell understands the essential contradictions of being an American, and lays them out, untidy as they are, for us to inspect, confront, and contemplate.


Now let me switch gears a bit, and assure you that there's more to

Inheritors

than a lot of political talk. As is so often true of the work at Metropolitan Playhouse, this is an authentic bit of American dramatic history that's more or less been ignored for several decades. I was pretty much blown away by what Glaspell was attempting in this piece in 1921: it's almost Shavian in its ambition, but it was written at a time when most American writers were still mired in Belasco- or Fitch-styled melodrama; O'Neill was just beginning his experiments with tragedy and symbolism, and all the other more-or-less "modern" playwrights (Barry, Anderson, Sherwood, Kinglsey, etc.) weren't on the scene yet. Glaspell doesn't have the technique or tools to quite pull off everything she attempts in this play, but it's nevertheless a remarkable achievement, and one that any student of the history of dramatic writing will be interested in.


Icing on the cake, so to speak, is that Metropolitan's production is splendid, featuring what may be the strongest cast ever to tread the boards of this sturdy, intimate East Village theatre. Anchoring the piece are Tod Mason as two generations of Felix Fejevarys (father and son) and Margaret Loesser Robinson as the heroic-minded Madeliene. David Fraioli delivers a memorable turn in Act I as the visionary Silas Morton, while Sue Glausen Smith is terrific as both Grandmother Morton and Madeliene's aunt Isabel. Matthew Trumbull, Jeff Pagliano, and Sean Dill are outstanding in smaller roles. The design is impressive, especially Rebecca Lustig's period costumes. Yvonne Opffer Conybeare's direction is nicely-paced if maybe more thoughtful and serious than absolutely necessary; but I think she and artistic director Alex Roe are keen for audiences to pick up on all of the resonances of Glaspell's astonishingly timely script.


In the end, there's a great, compelling story here, along with plenty of food for thought vis-a-vis the fundamental question, "What makes an American?" It's one we never can afford to lose sight of. We must be grateful to the smart and brave theatres like Metropolitan that continually challenge us with works that makes us think hard about essential stuff like this.