nytheatre.com
by Martin Denton · September 24, 2007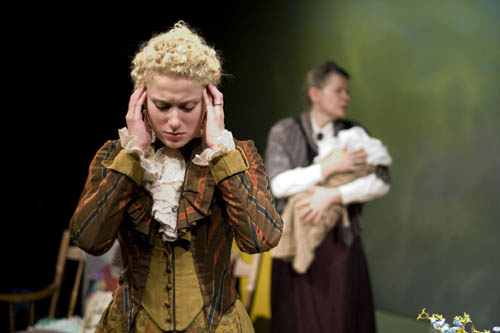 No less a personage than William Dean Howells declared James A. Herne's 1890 drama Margaret Fleming to be an "epoch-making play"; that alone would seem to make us want to pay attention to this lost work from America's theatrical past, now begin given a fine and clear-headed revival by Alex Roe at Metropolitan Playhouse.

Margaret Fleming turns out to be fascinating. The play tells the story of a happily married couple, Philip and Margaret Fleming, proud parents of a baby girl named Lucy and as ecstatically filled with love and desire for each other as their Victorian Era sensibilities will allow (and they're pretty liberal, at that). Philip runs a mill, and though there are intimations of certain business difficulties, it's also clear that the Flemings are very, very wealthy. Margaret oversees a small assemblage of servants, including Lucy's Germanic nurse, Maria.

So, here's what happens: The stern Doctor Larkin warns Philip that the young woman with whom he's had an indiscretion has just given birth to their illegitimate child; concurrently, Maria confides in Margaret that her unmarried sister, who is in very ill health, has just had a child, but she can't discover who the father is. Maria persuades Margaret to visit her sister, and she does so without Philip's knowledge. When she gets there, the facts reveal themselves in their ugly glory. Margaret has been betrayed, her sad young rival has died, and the whole world that Margaret and Philip thought they were masters of has been turned upside down.

Now, it would be wrong of me to tell you any more: check out this singular melodrama and see how an American writing in the shadow of Ibsen (though admittedly without the master's depth) resolves a moral dilemma. For me, Margaret Fleming offers invaluable insights about how much and how little American society has changed in 110 years; on the one hand, our capacity to be shocked by certain events has been entirely lost, while on the other, our obsession with gossip and reputation remains steadfast. And on the third hand, the way we treat the unfortunate and downtrodden in our midst has perhaps not so much been fixed as simply understood to be problematic. All of these issues surface in Margaret Fleming, and provide food for thought that contemporary plays on the same subjects would not.

Herne's plotting and dramaturgy—state-of-the-art for American playmaking in 1890—feel creaky nowadays. And some of the assertions made in this play, especially Larkin's explanation of the hysterical nature of glaucoma, are hopelessly dated. Credit director Roe with taking Herne's creations seriously and on their own terms, letting them speak to us in their own voices, no matter how old-fashioned they seem, so we can take their measure and conclude what we will about them.

Margaret Loesser Robinson, a Metropolitan Playhouse alum several times over, turns in another distinguished performance in the title role, showing us Margaret's petulance, pride, and deep-down fine nature. Teresa Kelsey is alternately weepy and bitter (appropriately) as Maria; Sidney Fortner (who also designed the show's many excellent costumes) plays three other Fleming servants with aplomb. Scott Sortman (as Maria's erstwhile husband) and Jack McKeane (as two youngsters) offer strong support as well. But neither Todd Woodard as Philip Fleming nor Peter Judd as Larkin had quite found their way into their respective roles at the performance reviewed; that will likely change with time.

Margaret Fleming is a museum piece, in its way, but museums are enormously entertaining and useful. Don't let the fact that this is a 100+-year-old American play that you've never heard of keep you from experiencing it. Kudos to Alex Roe and Metropolitan for once again teaching us who we are by shoring up our theatrical heritage!

BACKSTAGE.COM
Reviewed by Robert Windeler
Published on BackStage.com on October 2, 2007.
Copyright 2007 The Nielsen Company. All rights reserved.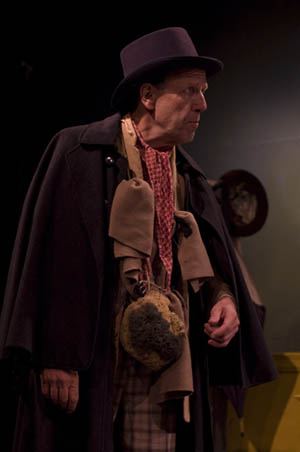 For someone who might have been the American Ibsen, James A. Herne has languished in obscurity long enough—since just a few years after his death in 1901. Reason enough for this revival by a company dedicated to the living examination of American theatre history. But director Alex Roe and his committed cast have gone far beyond mounting a museum piece. Their production of this 1890 play, arguably at the beginning of realism in American drama, does justice both to its watershed period and to a contemporary audience.
The play's themes of female independence, social hypocrisy, and the mistreatment of the poor and immigrants were revolutionary in their day and are still relevant. Margaret Fleming (played by the luminous Margaret Loesser Robinson) is a young, small-town Massachusetts wife and new mother married to the local mill owner. She accidentally discovers that he has had a liaison with—and a child by—one of his workers. Margaret's responses to the situation, and those of her circle, seemed shocking at the time; they were hailed by critics as a welcome new kind of truth in theatre but shunned by audiences used to the prevailing melodrama. Only the heroine's sudden blindness brought on by stress seems a convenient, unrealistic, and unnecessary throwback to the type of theatre Herne and his contemporaries had previously plied with great success.
Other acting standouts include Peter Judd as the too-upright family doctor, and Teresa Kelsey as the Flemings' conflicted German housekeeper. Sidney Fortner (who also plays three small roles) designed the credible period costumes. The 1890 set (by Roe), complete with rainmaker (by Alexander Senchak), further roots Herne's play in its time and mood, enabling it to speak to the ages.


The Village Voice Theater

This week's hot new plays? They're all rediscoveries from yesteryear Stacks of Surprises
by Michael Feingold
October 9th, 2007 6:55 PM

The library of world drama, where I used to find myself browsing alone, has unexpectedly become a very crowded place. Carl Forsman of Keen Company and Jack Cummings III of Transport Group race each other through the stacks of the post-1950 American wing; a few shelves ahead of them, Peccadillo's Dan Wackerman grabs for every large-cast work he can find from the '30s and '40s; one stack beyond him, Alex Roe of Metropolitan Playhouse busily blows dust off the pre–World War I repertoire. … I love a quiet library, but I couldn't be happier. Nothing cures the ache of loneliness faster than finding friends who share your concerns. If most Americans are clueless about the past, clearly the rising generation doesn't intend to remain that way.

For their sake, this week I've foregone Hamlet and The Misanthrope, and have postponed commenting on Mauritius at MTC. Hamlets and Misanthropes, hardy perennials, will bloom again; Mauritius (rhymes with "factitious") can wait. The chance to discuss Tolstoy in a theater column, or to experience American rarities like Margaret Fleming or Night Over Taos, comes only once in a critic's lifetime, and must be seized.

Nor does the Metropolitan's cast for Margaret Fleming generate much electricity, though Alex Roe's efficient production makes clear both the play's importance and the reasons that it only succeeded after audience taste had caught up with it. Sweet-natured Margaret, the pampered wife of a wealthy mill owner, has her eyes opened like Mrs. Alving's when she finds the living evidence of her husband's adultery nursing at her breast. Herne's sagacious moves include a comic subplot that adds bitter twists to the main theme, and a sly, unspoken parallel between husband Fleming's personal morals and his business practices. Regrettably, the ineffectual actor playing Fleming sinks much of Roe's lucid staging, despite everything his more competent colleagues can do. But grit your teeth and stick with it; your reward is a play well worth knowing.




Margaret Loesser Robinson and Sydney
Fortner
Photo ©
Michelle DeBlasi
Scott Sortman

Photo © Roebianculli