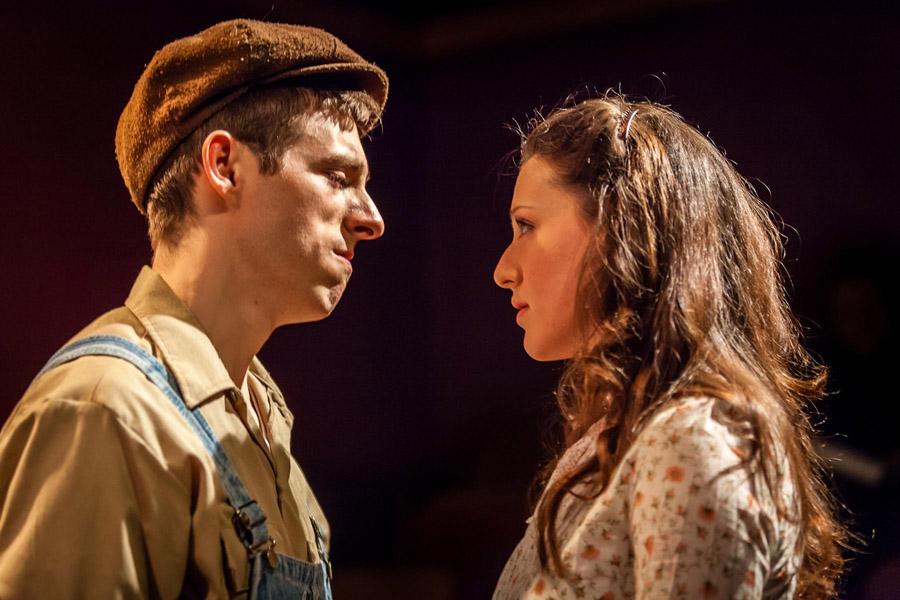 Rowan Michael Meyer and Alex Trow
photo (c) Alan Barnett

THE DETOUR
by Owen Davis

From the Pulitzer Prize winner for Icebound, a story of dreams chased, abandoned, renewed.
In a 1922 agrarian backwater, Helen Hardy dreams of glory--not for herself, but for her promising young artist daughter. Helen's husband dreams of buying more land, while Kate's would be fiancé dreams of getting out of the dirt and in on the ground floor of the automobile craze.
But what, exactly does Kate dream for herself?
In this stirring and simple tale, The Detour plumbs deeply cherished American visions of prosperity: a better life for our children, a growing homestead, a thriving modern business. In this case, romances of the past bear a heavily mortgaged future, but
in its conflicted and truthful way, the play celebrates the extraordinary ambitions of ordinary people.

More on the play...

Starring
Michelle Eugene*
Micah McCain*
Rowan Michael Meyer*
John Ottavino*
Stu Richel*
Andrea Sooch*
Mitch Tebo*
Alex Trow*


* Members of Actors Equity Association.

The Detour
is an AEA Approved Showcase.

Laura Livingston

Set Design

Lighting Design by
Christopher Weston

Costume Design by

Sidney Fortner

Dramaturgy
Gladys Foxe
Production Assistants

Jessica Doherty
Victoria Moshy
Evangeline Neuhart
Tori Sicklick