Grass vs. Granite
In some circles, and perhaps now more than ever, cities get a bad rap. Never mind your Zion, your Emerald City, your beacon on the hill—Sodom and Gomorrah set a tone not easily tuned out.

But to a theater called Metropolitan, the city gleams with a thousand splendors, promising opportunity, entertainment, and limitless discovery. We wonder if any creature of the metropolis can even survive outside of it. So does Augustin Daly's 1892 comedy: A Marriage Contract.

Rob Fleming is a man-about-town in 1890s New York, and yet he has fallen hard for Sabina Pognip, the daughter of a small-town factory owner. Unable to extinguish the young lovers' ardor, Papa Pognip offers the city slicker a devil's kind of bargain: he may marry Sabina if he agrees to come live in her home town of East Lemons, New Jersey. Sure of his heart, Rob sells his soul, and it's off to the suburbs, where trains stop only on demand.

But six months later, all is not domestic bliss in the Pognip-Fleming household. And when more New Yorkers arrive in Rob's wake, including a mysterious woman without her husband, a would-be Lothario, and a fast-talking city lawyer, they stir up many a dormant desire in the little town. The "moral average" of East Lemons is gravely threatened…as is the young marriage.

On its face, the play is a fish-out-of-water comedy where the spirited fish roils the waters of a parochial pond. On those terms, A Marriage Contract is awfully funny, and its jokes are not merely mockeries of simple country folk and slick city sharpies. The play's humor works on every level, with witty dialogue, comical characters, physical shtick, intractable situations, awkward coincidences, and the very pathos of being human. (Admittedly, there are jabs at New Jersey. Even in the 19th century.)

East of Eden
The humor also resonates because it derives from real and persistent concerns. Notable, and still palpable in 2018, was an anxiety over urbanization in the late 1800s. The economy, transforming from agrarian to industrial, drew workers into cities. Urban cultures developed their own eclectic norms as these newcomers, including waves of European immigrants, intermingled and broke with old traditions. How easy for the worst dangers and vices of the city to become inseparably associated with all manner of cultural change.

A Marriage Contract highlights many such late century changes. Some were malign, some benign, some novel, and some age-old, but all were threats to the status quo. The breakup of the family, the rebellions of youth, the rise of new money, the campaigns for public health, the dogged temperance movement, the proliferation of financial schemes, the growth of the legal profession, the increasing independence of women, even the coming of the social-issue dramas of Ibsen (a contemporary!) ... from the Pognip perspective, all are ills of the polis.

The play's perspective is the opposite; it is unabashedly "pro-urban." Even so, the most committed country-dweller might appreciate its satire of the suburbs. First, our hero faces the boredom of being stranded in a town with limited diversions. Soon, the slow pace of a temperate East Lemons saps his energy. Even worse, he learns that sharing a home with his wife and her over-attentive father allows nothing to breed but familiarity. And most cruelly, he loses his own mind. Perhaps spurred by a scarcity of distractions, the chief preoccupation of small-town dwellers is the behavior of their fellow small-town dwellers. One's neighbors judgments become the standard by which every behavior is measured. When Rob finds himself thinking as the East Lemonsers do, something has to give.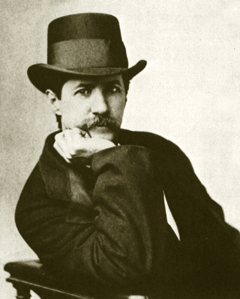 Emerging Artist
If the serious foundation of its humor makes A Marriage Contract play so well 125 years after its first performance, so does its author's surprisingly contemporary-seeming writing. A real gem among Metropolitan's discoveries from the lost library of American drama, A Marriage Contract is a reminder that theater of the era was not all simplistic sensationalism, and it should go a long way to burnishing its once internationally famous author's reputation.

While he is now almost exclusively associated with his high-octane melodramas, and Metropolitan audiences may remember his Under the Gaslight and Leah, the Forsaken, Augustin Daly was known in his time for a meticulous insistence on motivated action, justified feeling, and consistent characters. In this lower-keyed domestic comedy, the truth and familiarity of character and motive resonate clearly and deeply. The play is certainly exaggerated, borrowing stock characters and situations from farce, but it endows them with depth and complexity, and most importantly—unlike pure farce—this comedy allows for their self-realization and growth.

Uncommon Ground
In truth, the heartbeat of the play comes not from the superficial conflict between city and country life, but from the desire of each character to live his or her own life when doing so means defying, confronting, or possibly letting go of a loved one. Through laughter and sympathy, A Marriage Contract urges us to embrace others, with all their contrary inclinations, even as we acknowledge our own faults.

That message makes the play something more than a fin-du-siècle curiosity. Describing a small New York City social set of the 1890s, its argument is a cosmopolitan one today: that only with tolerance of differences, indulgence of follies, and forgiveness of indiscretions, can we fully live our lives and love one another.

In the chill winter of a contentious time, Metropolitan is delighted to present such bright and optimistic fare as the third production of our Season of Resilience.