The Blues According to Langston Hughes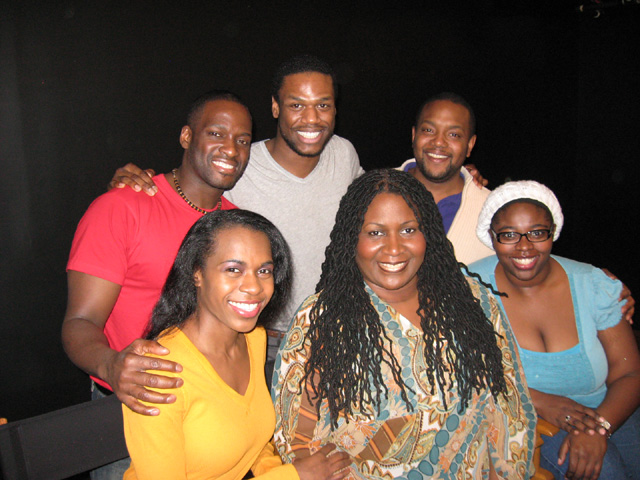 by Danny Ashkenasi


More than 30 songs adapting about 60 of Langston Hughes' poems. A musical journey of the African-American experience in the 20th Century as seen and experienced by Langston Hughes and set to music in a variety of styles evoking the drama and emotions of the times.

For more information

click here


Gary E. Lawson, Shawn Cortel, John-Andrew Morrison,
Adrienne Lyric, Carllie Jaxen, Christine Sanders





Harlem on my Mind


by Xoregos Performing Company


Four new plays

by: Ade Ademola, Grace Cavalieri, Dave DeChristopher, Kimberly Shelby-Szyszko

,

Authentic songs by: Duke Ellington, Fat Waller, Irving Berlin, others
Poems by: Georgia Douglas Johnson, Langston Hughes, Angelina Grimke, others.





Cast: Paule Aboite, Andrew R. Cooksey, Keldrick Crowder, Z. Louis Finney, Sydney Allyson Francis, Emani Spence

Music Director:

Eugene Abrams




Director:

Shela Xoregos




A Block of Time pt1 - Pigfoot Mary Says Goodbye to the Harlem Renaissance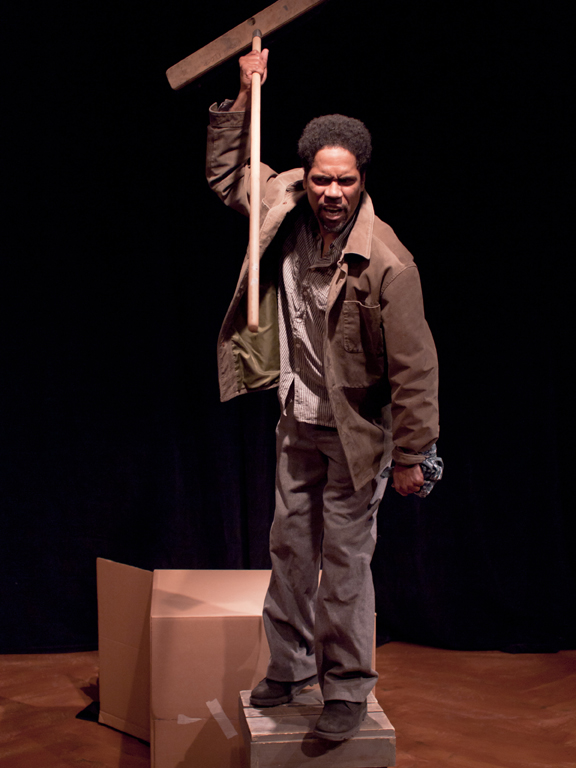 by Daniel Carlton




One of Harlem's most successful early entrepreneurs Pig Foot Mary (a real person) says good

bye to the customers of her highly profitable pig's feet and other eats stand at 135th and Leonox Avenue. She remembers in particular the stories of four men she met during her time on the corner. These stories are told from the men's perspective through separate verse monologues.* Langston Hughes, Countee Cullen*, Marcus Garvey*, Zora Neale Hurs

ton*, Claude McKay*, and Paul Lawrence Dunbar* are amongst the Renaissance paticipants that these men both directly and indirectly encounter. Written and performed by Daniel Carlton - featuring Benja K as Pigfo

ot Mary, the entire piece is in poetic verse.

* These writers words are heard in voiceovers


Daniel Carlton


photo by Kusandha Hertrich





The White Person's Guide to the Harlem Renaissance




by David Lally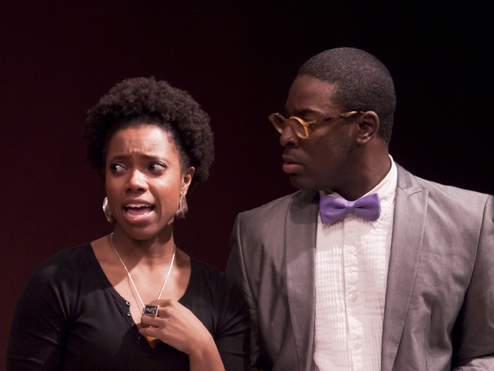 What lurks above 125th Street? Generations X, Y, and Z, take the A Train to Harlem and discover what happened during a time not too long ago and how its influences still resonate today. From the creator of "Little Edie & The Marble Faun" ("an unexpectedly touching examination of memory and loss" -- Backstage) and "The Real Housewives of the 19th Century" ("VERY FUNNY--thanks to the clever script and great cast with impeccable comedy timing." -- HI! Drama) Here is a quick guide every white person (and other colors, too) needs to know about the Harlem Renaissance.
Alex Marshall-Brown and Kyle Parker
photo by Kusandha Hertrich
Belle of the Books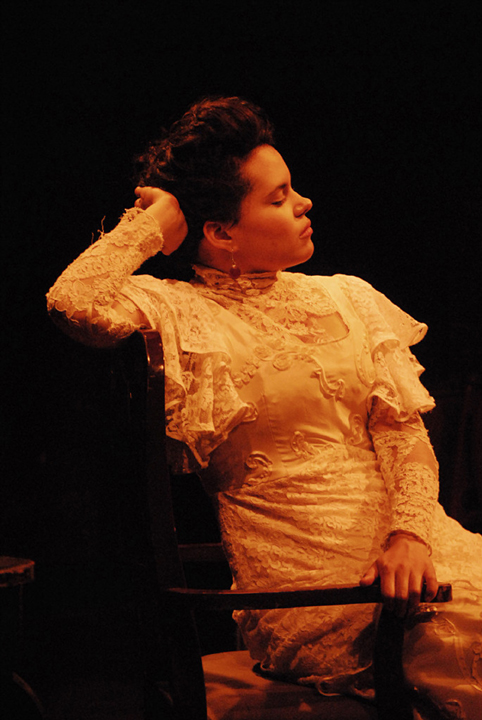 by Juliane Hiam
"Belle of the Books," is a one hour, one woman show. A dream play set somewhere among memory, fantasy, self discovery and paranoia, we adventure through the heart and mind of Belle da Costa Greene, the first librarian and director of the Pierpont Morgan Library in Manhattan from 1906 almost until her death in 1950. Belle worked alongside JP Morgan, using his money to make purchases for his collection; a position that made her one of the most sought after people in the international art scene of her day. An exotic beauty with a dusky complexion, she was sometimes whispered about and her Portuguese ancestry, mysterious as it was, was sometimes called into question behind her back. This play explores the secret she did keep, while living an abundantly public life — she was of African American descent. Having changed her name, and denied her heritage and family, particularly her father who was the first African American to graduate Harvard, "Belle of the Books" explores Belle's inner tumoil, her guilt, her regret, alongside her satisfaction and pride in herself.
Andi Bohs
photo by Erica Burrell
"Belle of the Books," is written by Juliane Hiam, directed by Catherine Taylor Williams, and stars Andi Bohs as Belle da Costa Greene. Original music by David Noel Edwards and costume by Arthur Oliver. Set design by Carl Sprague. This is a co-production with Ventfort Hall Mansion and Gilded Age Museum of Lenox, MA, who commissioned the play and produced the original run of the play in the summer of 2010, where it had 68 performances.
Chasing Heaven
by Leah Maddrie
A Pulitzer Prize-winning black female author tangles with the lively ghost of a white male Tin Pan Alley legend when she tries to reinvent his controversial musical work

Chasin' Hebbin
which may or may not have been co-authored by a nearly forgotten female Harlem Renaissance writer. Chasing Heaven has comedy, music, dancing, a dash of romance, and a few lines guaranteed to make you think. It's also extremely topical, as you know if you keep up with the latest theatre news. Come
and enjoy!
Chris Zorker and Christine Campbell,
photo by Beth Wexelman
A Tribute to Langston Hughes
by Newburgh Performing Art Academy. Teen Theatre Ensemble
Ten teens from the City of Newburgh, New York ages 13-19 use mime, movement and creative staging to help enhance the emotional impact of the poets intent. Eleven of Mr Hughes' most famous poems are portrayed and this production is sure to inspire those familiar with his brilliant poetic writing as well as to serve as an exciting vehicle to introduce the poetry of Langston Hughes to younger and newer audiences.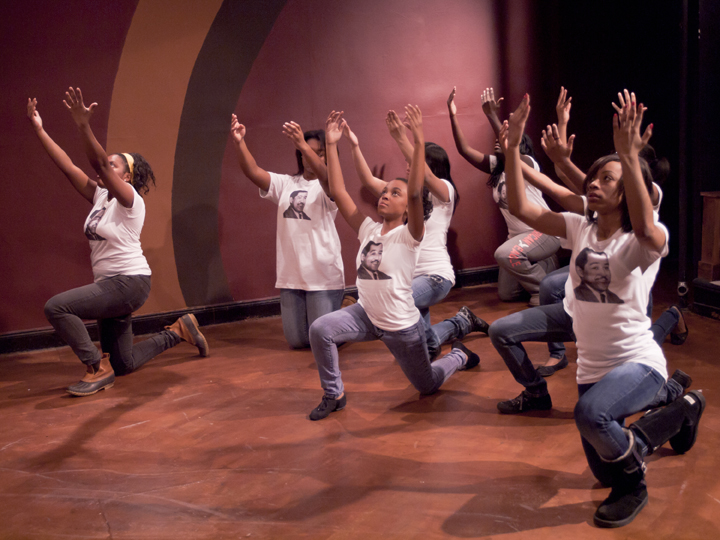 "Merry Go Round"
"The Ballad of the Landlord"
"African-American Fragment"
"I Too, Sing America"
"Dream Variation"
"The Negro Speaks of Rivers"
"Cross"
"Mother to Son"
"Hold Fast to Dreams"
"Yesterday"
"My People"
Suzy Camacho, Kamaria Carrington, Azure Erksine, Taje Isaacs,
Kerra Ojula, Nicolette Roland, Carumey Stevens,
Emporah Raven Thompson, Ebony Vinson
photo by Kusandha Hertrich