"You must tell me, dearest, what I have done to offend you. The worst criminals are not condemned unheard. And now I only ask you to be just."
"You know very well what you've done. You can't expect me to humiliate myself by putting your offence into words."
"Upon my soul, I don't know what you mean! I don't know what I've done. "








William Dean Howells and Drama as Literature

William Dean Howells (1837-1920), American writer and editor, was an influential critic and an important novelist of the late 19th century. His career spanned a period of radical change from European influenced conventions in American literature to Realism; as novelist, critic, and editor, he contributed greatly to those changes. His novels appeared almost every year from 1987 to 1921, he managed to write six autobiographical studies, more than a dozen travel books, four volumes of poetry, numerous memoirs, biographies and reviews.

And 30 plays.

He was not known for these dramatic efforts, which were far more literary than stage-worthy. Rather than receiving professional productions, these one-acts plays were published regularly for review in literary digests, principally The Atlantic Monthly and Harper's. His plays were described as 'closet dramas' for reading and not necessarily performing and he was meticulous in crafting his stage directions as he was in his dialogue. He enjoyed exploring realism in the dramatic form, as with his novels, to tell the truth of the everyday lives of Americans. He had no interest or talent for the role of Actor/Manager, the only way a playwright could earn a living in early 19th century American theatre.

His first published play was, in fact, The Parlor Car published in The Atlantic Monthly, August, 1876. (See the illustration above right.) after he had already written three novels, a book of poems and numerous articles and essays.

Realism in American Plays

Melodrama

The drama of the pre-war period tended to be a derivative in form, imitating European melodramas and romantic tragedies, but native in content, appealing to popular nationalism by dramatizing current events and portraying American heroism. But playwrights were limited by a set of factors, including the need for plays to be profitable, the middle-brow tastes of American theater-goers, and the lack of copyright protection and compensation for playwrights. The primary 19th Century Theatrical Form was melodrama, despite other influences, becoming the most popular by 1840.

Characteristics of Melodrama:
Name comes from "music drama" – music was used to increase emotions or to signify characters.
A simplified moral universe; good and evil are embodied in stock characters.
Episodic form: the villain poses a threat, the hero or heroine escapes, time and again, with a happy ending.
Heightened emotional language.
Asides to the audience, responses solicited

Many special effects: floods, volcanoes, fires, explosions, drownings, earthquakes.
Equestrian animals used or canine melodramas.
Nautical melodramas, disaster melodramas, war epics.

Examples of the style include the works of Dion Boucicault who combined sentiment, wit, and local color with sensational and spectacular endings; and an adaptation of Harriet Beecher Stowe's "Uncle Tom's Cabin" (1852) dramatized by George L. Aiken (1853) which ran 325 performances in New York, and was widely-produced in the following years.

The Rise of American Realism


Many cultural currents influenced the introduction of a realistic approach to dramatizing contemporary life. One would hope that the Civil War and the assassination of a President (in a theatre no less!) was enough melodrama for a generation of Americans. The nation's growth and prosperity was spurred on by a mix of post-war progress such as the successful connection of the transatlantic telegraph cable (1866) and the first transcontinental railroad completed in United States (1869); international advances in medicine and science such as pasteurization and "The Origin of the Species"; and a continuous wave of European immigration and the rising potential for international trade.

Through all mediums including painting, literature and music, American Realism attempted to portray the exhaustion and cultural exuberance of the figurative American landscape and the life of ordinary Americans at home. Artists used the feelings, textures and sounds of the city to influence the color, texture and look of their creative projects. Musicians noticed the quick and fast-paced nature. Writers and authors told a new story about Americans; boys and girls real Americans could have grown up with. Pulling away from fantasy and focusing on the now, American Realism presented a new gateway and a breakthrough - what it means to be in the present.

The earliest period of American realism in drama can be dated 1870 to 1900. Elements of dramatic realism were finding their way into melodrama (e.g., Augustin Daly's "Under the Gaslight") and in local color plays (Bronson Howard's "Shenandoah" pic left). Other key dramatists during this period were David Belasco (pic right, "Girl of the Golden West"), Steele MacKaye, our man William Dean Howells, Dion Boucicault, and Clyde Fitch. Realism onstage called forth a set of dramatic and theatrical conventions with the aim of bringing a greater fidelity of real life to texts and performances:

Recreating on stage a facsimile of real life missing a fourth wall, as if the audience is eaves-dropping on a scene.
Encyclopedia of details: food, clothes, landscapes, social habits.
Characters speak in naturalistic, authentic dialogue without verse or poetic stylings, the use of simple, transparent language.
Realist writers fit their style to their subject, ordinary people, using ordinary language, echoing the way regular people spoke.
Acting is meant to emulate human behaviour in real life.
Narratives typically are psychologically driven, and include day-to-day, ordinary scenarios.
Narrative action moves forward in time.
Supernatural presences (Gods, ghosts, fantastic phenomena) do not occur.
Sound and music are diagetic only.
Howells was primarily a novelist, and in the American world of prose, it was Samuel Clemens (1835–1910), better known by his pen name of Mark Twain, who best challenged early 19th-century American literary language that tended to be flowery, sentimental, or ostentatious—partially because they were still trying to prove that they could write as elegantly as the English. Ernest Hemingway stated that all American fiction comes from Mark Twain's novel "The Adventures of Huckleberry Finn." Twain's style, based on vigorous, realistic, colloquial American speech, gave American writers a new appreciation of their national voice. Twain was the first major author to come from the interior of the country, and he captured its distinctive, humorous slang and iconoclasm. For Twain and other American writers of the late 19th century, realism was not merely a literary technique: It was a way of speaking truth and exploding worn-out conventions.

The other novelists whose works were considered part of this 19th century movement included Stephen Crane, Horatio Algier, Henry James and, of course, William Dean Howells.

Howells and Realism in Dramatic Literature


The greatest literary influence exerted on Howells was by the writer whom he called "one of the greatest realists who has ever lived" -- Carlo Goldoni (1707-1793), the Italian playwright and librettist from the Republic of Venice. His works include some of Italy's most famous and best-loved plays. Audiences have admired the plays of Goldoni for their ingenious mix of wit and honesty. His plays offered his contemporaries images of themselves, often dramatizing the lives, values, and conflicts of the emerging middle classes.

There is abundant evidence that the Venetian dramatist more than any other writer, turned Howells from Romantic poet into prose Realist. It was through Goldoni's eyes that Howells, on assignment as consul to Venice from 1861-1865, first saw the possibilities of prose fiction based on the commonplace events of contemporary life. Later Goldoni's plays provided direct inspiration for his own comedies and farces. Howells, (in "My Literary Passions," 1895):

"I had a notion that, in literature, persons and things should be nobler and better than they are in sordid reality; and this romantic glamour veiled the world to me, and kept me from seeing things as they are. But in the lanes and alleys of Venice I found Goldoni everywhere. Scenes from his plays were enacted before my eyes, with all the charming Southern vividness of speech and gesture, and I seemed at every turn to have stepped unawares into one of his comedies. "

Howells defines Goldoni's elements of realism, as if he is talking about his own:
"a) the truthful treatment
b) of commonplace material, which produces
c) proper moral effect,"

".. there is seldom anything more poignant in any one of [Goldoni's plays] than there is in the average course of things. The plays are light and amusing transcripts from life, for the most part, and where at times they deepen into powerful situations, or express strong emotions, they do so with persons so little different from the average of our acquaintance that we do not remember just who they are."

"I know none of his plays that insults the common sense with the romantic pretense that wrong will be right if you will only paint it rose-color. He is at some obvious pains to 'punish vice and reward virtue' ... no feigning that passion is a reason or justification ... nor that suffering of one kind can atone for the wrong of another."

The Railroad Plays

There are four plays in the Howells canon that take place in and around trains, The Parlor Car,"The Smoking Car," "The Albany Depot" (see illustration at left) and "Room Forty-Five." The designation, "The Railroad Plays" was applied by Alan Ackerman, a theater scholar, as a point of discussion for the Dramatic Realists' appropriation of common public spaces as settings for private intimate exchanges between characters. [American Literary Realism, 1870-1910 Vol. 30, No. 1 (Fall, 1997)] Ackerman notes this as a fundamental difference between late 19th century realistic drama and the romantic melodrama that came before it, the notion of a transparent "fourth wall" through which the audience unobserved can peer into the private world of the play.

In general Howells' plays mock overt theatricality and focus on the ordinary and intimate experiences of the upper-middle class, experiences that are represented primarily in talk. The refinement or "culture" of the characters and the literary quality of the plays themselves are thrown into relief particularly when they are set in erstwhile public spaces such as railroads or hotels, where the principals encounter by chance less privileged characters and physical conditions.

The everyday settings of his plays include a hotel, a New York apartment, a train-car: natural places where people easily meet. The incidents are those of real events rather than fictions but drawing room comedy and depend for the their effect on the subtle contract of social values. These settings and events produce scenes in which one meets probability in everything ...


The Parlor Car, written 1876, was not only the first of the so-called railroad plays but was in fact the first of Howells' 25 one-act dramas. The injection of private intimate experience into public space became a crucial aspect of American life as the 19th century wore on, Howells was a primary theorist of this shift. It is, therefore, no mere coincidence that four of Howells's situation comedies, a genre to which he devoted considerable energies for thirty-five years, are set in railroad cars or depots.

This little play transforms a public space into a private situation and in doing so it is emblematic of the transformation of American theatre in the second half of the nineteenth century. The trajectory of an American theatre of rowdy spaces of audience visibility and auditability transforming to darkened auditoriums habituated by only a small cross-section of the population may be imagined for better or worse as the parlor car, disengaged from the speeding train, left quietly on the tracks.

From critic Fred Lews Pattee, in "A History of American Literature": The lightness of Howells' touch, his genuine wit, and his mastery of dialogue appear at their best his little parlor comedies. Nothing as good in their line is be found in American literature. Had he written nothing he would still be remembered as the laureate of the trivial, who with exquisite prose style and sparkling humor made classics from the ordinary experiences of human life."

Travelogue


William Dean Howells wrote extensively of his travels in and about European cities such as Venice and London. This quality of observation builds the world of The Parlor Car with travel schedules, railway trivia, boating on the Hudson, fashion and cigars.

Trains

By 1876, the year The Parlor Car was published, railroads had become America's primary mode of long distance transportation.

The play is set on the New York Central Railroad which operated in the Great Lakes and Mid Atlantic regions of the United States. The railroad connected greater New York and Boston in the east with Chicago and St. Louis in the Midwest along with the intermediate cities of Albany, Buffalo, Cleveland, Cincinnati, Detroit, and Syracuse. New York Central was headquartered in New York City's New York Central Building, adjacent to its largest station, Grand Central Terminal. (See map from 1876, right.)

In William Dean Howell's play, the train is delayed in Rochester, picks up our romantic couple Syracuse and then strands them somewhere between Utica and Schenectady, on its way to Albany. (See Schenectady Station, left.)

The railroad was established in 1853 by Albany industrialist and Railroad owner Erastus Corning, consolidating some of the oldest existing railroad companies in America including the companies referred to in the play:

The Mohawk and Hudson Railroad which opened September 24, 1831, connecting Albany and Schenectady.
The Utica and Schenectady Railroad was chartered April 29, 1833.
Syracuse and Utica Railroad was chartered May 1, 1836.
The Rochester and Syracuse Direct Railway was chartered and immediately merged into the Rochester and Syracuse Railroad on August 6, 1850.
By 1869 Cornelius Vanderbilt had acquired the existing New York Central and added his Hudson River Railroad, bringing service from Albany along the Hudson into New York City
Parlor Cars and Smokers
"A Pullman parlor car offered respectable and domestic amenities to those able to pay for them. The car interior resembles a fine parlor in a private home, and no parlor was complete without a woman to preside over it." (From "Railway Passenger Travel," Scribner's Magazine, September 1888)


Parlor accommodations were appreciated by those who used them because of their exclusivity. Journalist H. L. Mencken (1880 - 1956, picture left) called the parlor car "the best investment open to an American": "He not only has a certain seat of his own, free from intrusion and reasonably roomy; he also rides in a car in which all of the people are clean and do not smell badly. The stinks in a day-coach, even under the best of circumstances, are revolting. The imbecile conversation that goes on in parlor-car smoke-rooms is sometimes hard to bear, but there is escape from it in one's seat; the gabble in day-coaches is worse, and it is often accompanied by all sorts of other noises."

Wood-cut to the right engraving is titled "INTERIOR OF A PULLMAN SMOKER and PARLOR CAR ON THE PENNSYLVANIA RAILROAD BETWEEN NEW YORK AND PHILADELPHIA", published in "Frank Leslie's Illustrated" January 1876. This dated engraving from the year of 1876.
Charles Dickens on American Railroads


A colorful contemporaneous view of the railroads comes from Charles Dickens (1812 - 1870), who with his wife made a first trip to the United States and Canada in 1842. They took a one-day excursion from Boston to the factories of Lowell. His recollections of the trip survive mostly in his travelogue, "American Notes for General Circulation," published later that year.

Dickens noticed that the American railroads had no distinct first and second class carriages like their British counterparts. Rather, he remarked that the railroad cars were divided into gentlemen's cars (where everyone smoked) and ladies' cars (where no one did). He also noted, nineteenth-century perspective clearly exhibited, that "as a black man never travels with a white one, there is also a negro car", which he went on to describe as a "great, blundering, clumsy chest".

He found the railroad cars to provide a "great deal of jolting, a great deal of noise, a great deal of wall, not much window, a locomotive engine, a shriek, and a bell". The cars, he said were like "shabby omnibuses, but larger, holding thirty, forty, or fifty people." For warmth, the cars were equipped with a stove, he noted, fed with charcoal or anthracite coal, which was red-hot and "insufferably close". Through the light of its embers, one could see fumes co-mingle with the tendrils of smoke wafting in from the gentlemen's car. Gentlemen did ride in the ladies' car, when they accompanied ladies. Also, some ladies travelled alone.

Dickens bristled at the informality exhibited by the train conductor ("or check-taker, or guard, or whatever he may be"): "He walks up and down the car, and in and out of it, as his fancy dictates; leans against the door with his hands in his pockets, and stares at you, if you chance to be a stranger; or enters into conversation with the passengers about him." He also found it odd that "everybody" on the train "talks to you, or to anybody else who hits his fancy."

Dickens noted that politics was much discussed aboard the train, as were banks and cotton. He also noted that, as today, "that directly [after] the acrimony of the last [presidential] election is over, the acrimony of the next one begins".

George Mortimer Pullman and Luxury on the Railroad

George Mortimer Pullman (1831-1897) made his name famous as the designer of the eponymous sleeping car, which made its debut in 1865. But sleeping cars had been around since the 1830s - so what made Pullman's stand out? Comfort. The older 24-person sleeping cars left a lot to be desired and savvy designers leaped at the chance to improve long-distance train travel. George Pullman was a cabinet-maker, engineer, and building-mover.


After a particularly uncomfortable train ride, Pullman worked with the Chicago and Alton Railroad Company in 1862 to redesign and remodel their passenger coaches. The Pioneer, as he dubbed his design:

was wider and taller than anything that came before and used trucks with rubberized springs to reduce bouncing and shaking.
The walls were covered in a rich dark walnut,the seating was covered in plush upholstery and the fixtures were brass.
Thick curtains or silk shades covered the windows with chandeliers hanging from the ceiling, which was painted with elaborate design.
The only problem? The train didn't exactly fit existing platforms. According to American Science and Invention, Pullman said, "My contribution was to build a car from the point of view of passenger comfort; existing practice and standards were secondary." But this was 1865 and a national tragedy worked to Pullman's advantage. After President Lincoln's assassination the government elected to use the luxurious Pullman car (see picture to the left) for the last leg of his funeral train, requiring the renovation of every station and bridge between Chicago and Springfield.

The publicity turned the Pullman sleeping car into an overnight success. And, of course, civilized travel came with a slightly steeper price tag. But in the 19th century, and even into the 20th, long-distance train travel was almost exclusively enjoyed by the wealthy and the growing middle class. And though the Pullman Sleeper required a small additional fare, a berth wasn't unreasonable for people who could afford to travel far enough to need one. As the rail network grew, so did Pullman's empire. He rapidly expanded his enterprise and by 1867, he was running nearly 50 cars on three different railroads. He also developed some new designs: a hotel car, which was basically a Manhattan apartment on wheels, a parlor car, a dining car, and perhaps most importantly, a train vestibule, which made it easy to safely move from one train car to another.

Dayboat to Poughkeepsie

The two lovers met on a Dayboat to Poughkeepsie.The picture to the left is the day boat disembarkation in Pougjkeepsie, circa 1880. Many travelers took the Day Line boats to the Catskill Mountains region for summer vacations accompanied by family and large trunks of clothes. Others took the boats to riverside parks like Bear Mountain State Park and Kingston Point Park where they could spend the day picnicking and relaxing, and then catc h another steamer home again in the evening. Many groups from schools, clubs, and other organizations took yearly outings on the Hudson River Day Line.

Whatever the reason f or travel, the Hudson River Day Line provided its passengers with comfort, elegance, and some of the most beautiful scenery in the world at reasonable prices. The Hudson Highlands and West Point were known to travelers from Europe from illustrations in travel books, and a visit to New York was not complete without a trip on the Hudson to see these famous sights. A band or orchestra was always provided on board for pleasant travel, as was a fine restaurant and a cafeteria for less formal meals. Other amenities provided included writing rooms, news-stands, barber shops, and on one steamer, a darkroom for passengers to develop their own photographs en route.

The term "floating palaces" aptly described the Hudson River Day Line steamers. Millions of people had happy memories of pleasant summer days on the Hudson River Day Line boats including the Chauncey Vibbard, the Daniel Drew, the Albany, the Hendrick Hudson, the Robert Fulton, the Washington Irving, the Alexander Hamilton, and the Peter Stuyvesant.

Hudson River Sloops

The hero of T
he Parlor Car refers to his "walking over a slope" at night. The Hudson River sloop was the main means of transportation on the Hudson River from the early days of Dutch settlement in the 17th century (1600s) until the advent of the steamboat as an affordable alternative in the 1820s. Based on a Dutch design, this single-masted sailboat carried passengers and cargoes up and down the Hudson River between New York and Albany and points in between for over two hundred years. There were hundreds of these vessels. A trip between New York and Albany could take anywhere from 24 hours (a very fast trip) to several days, as speed was dependent on wind and weather conditions. Passengers prepared by bringing food and drink to enhance what was offered on board, and something to do with their time, like books and sewing in case the wind was light. Sometimes if there was no wind a sloop would anchor, and passengers would go ashore for a picnic or a stroll. Note the steam ferry and the sloop in the picture to the left.





Other References

Polonaise


Our heroine's interest in the "polonaise" suggests that she is very much in the thick of popular fashion. The robe à la polonaise or polonaise is a woman's garment of the later 1770s and 1780s or a similar revival style of the 1870s inspired by Polish national costume, consisting of a gown with a cutaway, draped and swagged overskirt, worn over an underskirt or petticoat. From the late 19th century, the term polonaise also described a fitted overdress which extended into long panels over the underskirt, but was not necessarily draped or swagged. The dress pattern to the left is from 1873, contemporaneous with The Parlor Car.






Embroidered Cigar Cases


Cigars and their accoutrement were very much a part of 19th century life. By the middle of the nineteenth century, smoking cigars had become so universal as to require:

The establishment of smoking rooms in hotels and clubs and - relevant in The Parlor Car - smoking compartments on trains.
Skullcaps in bright colors and smoking jackets were introduced to obviate the aroma of cigars clinging to normal wear.
And of course, cases to carry the cigars. Monograms or floral Embroidered Cigat Cases patterns or detailed bucolic landscapes.
The cigar became a status symbol in the United States, in part, because of its use by such well-respected figures as President Ulysses S. Grant and the writer Mark Twain (Samuel Clemens, a good friend of William Dean Howells). Twain expressed his love of tobacco and cigars often in speeches and in his non-fiction. In his Following the Equator (1897), the author writes "I pledged myself to smoke but one cigar a day. I kept the cigar waiting until bedtime, then I had a luxurious time with it. But desire persecuted me every day and all day long; so, within the week I found myself hunting for larger cigars than I had been used to smoke; then larger ones still, and still larger ones." The famous Henry Clay cigar, named after the American senator, was launched toward the end of the nineteenth century as a premium cigar product. By the end of the nineteenth century there were more than 7,000 cigar factories in the United States, with some 500 located in the state of Florida.

The Parlor Car, First Publication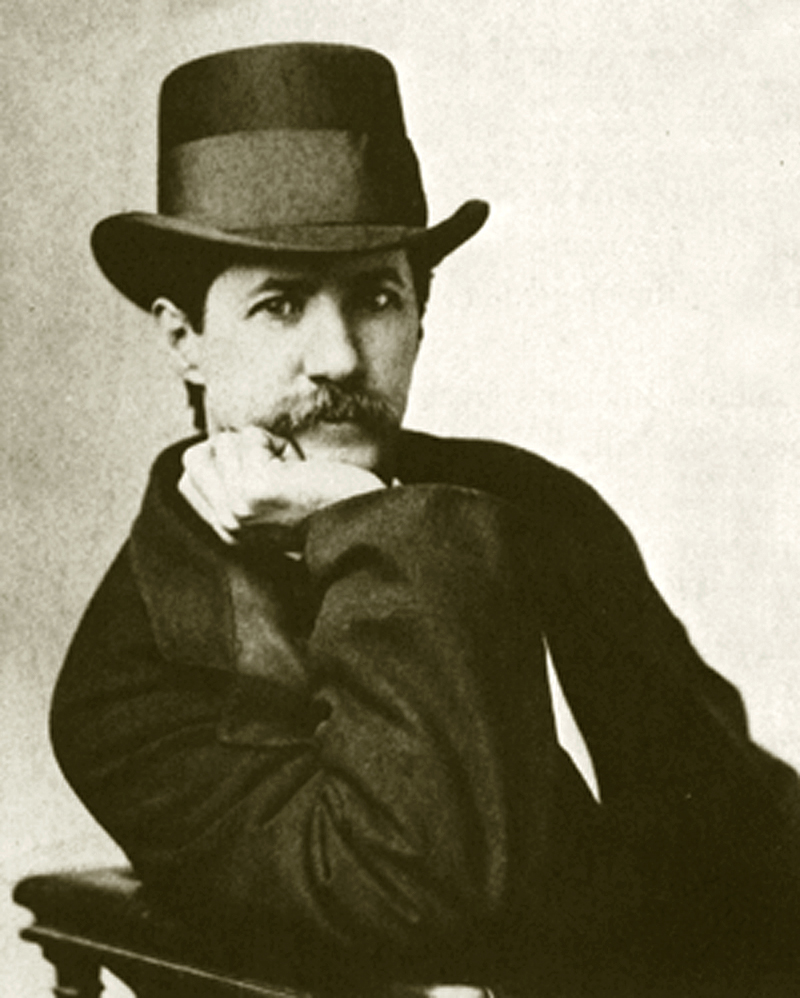 Augustin Daly (1838 – 1899)

It starts with John Augustin Daly, playwright and for three decades one of America's foremost theatrical producers and managers. Among other contributions, Daly encouraged
American playwrights by producing their plays and calling in print and correspondence for even better plays. He also encouraged contemporary literary figures such as Bret Harte, Mark Twain, William Dean Howells, and Henry James to write plays for production. When his company took over the Fifth Avenue Theatre, in 1874, Daly sent a request to Samuel Clemens for a new play Daly might produce. Clemens declined:

Samuel Clemens (1835 - 1910)

My dear Mr. Daly, Oct. 29.

Although I am not able to write a play now, there are better men that can. Would it not be well worth your while to provoke W. D. Howells of the Atlantic Monthly into writing a play? My reason for making the suggestion is that I think he is writing a play. I by no means know this, but I guess it from a remark dropped by an acquaintance of his. I know Howells well, but he has not confided anything of the kind to me. Still, I think if you and Bronson are done with your fight (I mean the newspaper one) it would be a right good thing to hurl another candidate into the jaws of the critics. I am not meaning to intrude & hope I am not. Yrs. truly, Sam L. Clemens

Mr. Daly did venture in accordance with Mark Twain's (see picture of Howells and Clemens) suggestion gently to "provoke" Mr. Howells into writing a play, and received the following :

Cambridge, Mass. Nov. 14, 1874.

My dear Sir: — Do not suppose from the great
deliberation with which I answer your obliging letter that I was not very glad indeed to get it. I have long had the notion of a play, which I have now briefly exposed to Mr. Clemens, and which he thinks will do. It's against it, I suppose, that it's rather tragical, but perhaps — certainly if you've ever troubled yourself with my undramatic writings, — you know that I can't deal exclusively in tragedy, and I think I could make my play in some parts such a light affair that many people would never know how deeply they ought to have been moved by it.

I have also the idea of a farce or vaudeville of strictly American circumstances. Of course I'm a very busy man, and I must do these plays in moments of leisure from my editorial work. I'm well aware that I can't write a good play by inspiration, and when I've sketched my plots and done some scenes I shall, with your leave, send them for your criticism. Yours very truly, W. D. Howells.

The requirements of the past season had prevented Augustin from staging Mr. W. D. Howells' first play, which had been announced for as early as August, 1876 (for the Fifth Avenue, see picture left):

"A new comedietta, The Parlor Car, which has been accepted by Mr. Daly, is to be published in The Atlantic Monthly, the author preferring to have the piece criticised in advance."

It will be recalled that it was at Mark Twain's suggestion that Mr. Daly proposed to the editor of The Atlantic Monthly an excursion into the dramatic field, with the result now told in these letters :

"Editorial office of The Atlantic Monthly, The Riverside Press, Cambridge, Mass. April 24, 1876


My dear Sir: You have doubtless forgotten a very kind invitation you gave me something more than a year since to send you anything I might write in the way of a play ; and it's with no purpose of trying to create a sense of obligation in you that I recall a fact so gratifying to myself.

Here is a little comedy which I have pleased myself in writing. It was meant to be printed in The Atlantic, (and so the stage direction, for the reader's intelligence, was made very full) ; but I read it to an actor the other day, and he said it would play; I myself had fancied that a drawing-room car on the stage would be a pretty novelty, and that some amusing effects could be produced by an imitation of the motion of a train, and the collision. However, here is the thing. I feel so diffident about it, that I have scarcely the courage to ask you to read it. But if you will do so, I shall be very glad.

If by any chance it should please you, and you should feel like bringing it out on some off-night when nobody will be there, pray tell me whether it will hurt or help it, for your purpose, to be published in The Atlantic. Yours trulv W. D. Howells.

Mr. Howells received comments from Mr. Daly and sends rewrites and suggests that Mr. Daly may be less than enthusiastic as regards the prospect of the performance of the piece at his Fifth Avenue Theatre. (See poster to the left.)

Editorial office of The Atlantic Monthly. The Riverside Press, Cambridge, Mass. May 9, 1876.

My dear Mr. Daly: I am very much gratified that you like my little farce, though your kindness makes me feel its slightness all the more keenly. If you think it will play, it is at your disposal; I could not imagine a better fortune for it than you suggest ; and if it fails, I shall have the satisfaction — melancholy but entirely definite — of knowing that it was my fault. I suppose that even if my Parlor Car meets with an accident it need not telescope any future dramatic attempt of mine ? I confide in your judgment and experience; and I am going to send you some half dozen pa
ges more of this size, supplying some further shades of character in the lady's case, and heightening the effect of the catastrophe. Very truly yours , W. D. Howells.

A clipping from the Boston Globe, July 24, 1876, announcing the delay of the production and the upcoming publication in the Altlantic Monthly.


While The Parlor Car was waiting to be attached to the first available train, the author was employing his spare hours in a dramatic work of more dignity : a comedy in four acts which was also to be submitted to the manager of the Fifth Avenue Theatre. (See poster to the left.) It was completed in due time and read, but, not at all to the author's disappointment (for he said he had little hopes of its "theatricability"), it was found wanting.

The Parlor Car was never produced by Augustin Daly, though it was published first in The Atlantic Monthly in 1876 and later in various collections of Howells' play and of American one-acts.