MRS. CAMPBELL : Where did you find her?
MRS. ROBERTS : What did she say ?
ROBERTS : How did you know her ?
CAMPBELL : Nowhere ; and nothing ; and I didn't.

William Dean Howells and Drama as Literature


William Dean Howells (1837-1920), American writer and editor, was an influential critic and an important novelist of the late 19th century. His career spanned a period of radical change from European influenced conventions in American literature to Realism; as novelist, critic, and editor, he contributed greatly to those changes. His novels appeared almost every year from 1987 to 1921, he managed to write six autobiographical studies, more than a dozen travel books, four volumes of poetry, numerous memoirs, biographies and reviews.

And 30 plays.

He was not known for these dramatic efforts, which were far more literary than stage-worthy. Rather than receiving professional productions, these one-acts plays were published regularly for review in literary digests, principally The Atlantic Monthly and Harper's. His plays were described as 'closet dramas' for reading and not necessarily performing and he was meticulous in crafting his stage directions as he was in his dialogue. He enjoyed exploring realism in the dramatic form, as with his novels, to tell the truth of the everyday lives of Americans. He had no interest or talent for the role of Actor/Manager, the only way a playwright could earn a living in mid-19th century American theater.

This work is one of Howells' minor works, but reflects the same tendencies towards literary realism as many of Howells' more famous works, including The Rise of Silas Lapham and A Modern Instance.


Howells' profound contribution to American theatre was to recognize and advocate the importance of "little morsels of drama," character sketches, and ordinary exchanges between people with intimate knowledge of one another. Significantly, Howells' plays were largely restricted to amateur performances. His one-act farces and comedies privilege private life not only in their content but also in their formal demands. Indeed, the best experience in theatre, in Howells' view, is akin to reading a novel. As a reader, one can be audience to a private domestic scene even in a crowded public place:

The novelist sets up his stage here and there, and then plays the whole piece through to the reader ... ; and the audience of the portable theatre enjoys privileges impossible in the stationary theatre. The witness of the dramatic action of the novel may go away and return when he likes; he can always take up the piece at the point where he left it, he can retrace his steps in it for a verification of his impressions, or advance with it to the end at such a pace as he pleases."°

Howells' advocacy of a domestic drama and his ability to dramatize intimate exchanges in swift and intelligent dialogue has led to his recognition as the foremost theorist of dramatic realism in America between 1865 and 1916.

From critic Fred Lews Pattee, in "A History of American Literature":

The lightness of Howells' touch, his genuine wit, and his mastery of dialogue appear at their best his little parlor comedies. Nothing as good in their line is to be found in American literature. Had he written nothing he would still be remembered as the laureate of the trivial, who with exquisite prose style and sparkling humor made classics from the ordinary experiences of human life."

The Smoking Car was written in 1898, published 1900. His first published play was The Parlor Car published in The Atlantic Monthly, August, 1876. after he had already written three novels, a book of poems and numerous articles and essays. Metropolitan Playhouse performed The Parlor Car earlier this year as part of its "virtual" season.

Realism in American Plays

Melodrama


The drama of the pre-war period tended to be a derivative in form, imitating European melodramas and romantic tragedies, but native in content, appealing to popular nationalism by dramatizing current events and portraying American heroism. But playwrights were limited by a set of factors, including the need for plays to be profitable, the middle-brow tastes of American theater-goers, and the lack of copyright protection and compensation for playwrights. The primary 19th Century Theatrical Form was melodrama, despite other influences, becoming the most popular by 1840.

Characteristics of Melodrama:

Name comes from "music drama" – music was used to increase emotions or to signify characters.
A simplified moral universe; good and evil are embodied in stock characters.
Episodic form: the villain poses a threat, the hero or heroine escapes, time and again, with a happy ending.
Heightened emotional language.
Asides to the audience, responses solicited.
Many special effects: floods, volcanoes, fires, explosions, drownings, earthquakes.
Equestrian animals used or canine melodramas.
Nautical melodramas, disaster melodramas, war epics.
Examples of the style include the works of Dion Boucicault who combined sentiment, wit, and local color with sensational and spectacular endings; and an adaptation of Harriet Beecher Stowe's "Uncle Tom's Cabin" (1852) dramatized by George L. Aiken (1853) which ran 325 performances in New York, and was widely-produced in the following years.

The Rise of American Realism


Many cultural currents influenced the introduction of a realistic approach to dramatizing contemporary life. One would hope that the Civil War and the assassination of a President (in a theater no less!) was enough melodrama for a generation of Americans. The nation's growth and prosperity was spurred on by a mix of post-war progress such as the successful connection of the transatlantic telegraph cable (1866) and the first transcontinental railroad completed in United States (1869); international advances in medicine and science such as pasteurization and "The Origin of the Species"; and a continuous wave of European immigration and the rising potential for international trade.

Through all mediums including painting, literature and music, American Realism attempted to portray the exhaustion and cultural exuberance of the figurative American landscape and the life of ordinary Americans at home. Artists used the feelings, textures and sounds of the city to influence the color, texture and look of their creative projects. Musicians noticed the quick and fast-paced nature. Writers and authors told a new story about Americans; boys and girls real Americans could have grown up with. Pulling away from fantasy and focusing on the now, American Realism presented a new gateway and a breakthrough - what it means to be in the present.

The earliest period of American realism in drama can be dated 1870 to 1900. Elements of dramatic realism were finding their way into melodrama (e.g., Augustin Daly's Under the Gaslight) and in local color plays (Bronson Howard's Shenandoah pic left). Other key dramatists during this period were David Belasco (pic right, Girl of the Golden West), Steele MacKaye, our man William Dean Howells, Dion Boucicault, and Clyde Fitch. Realism onstage called forth a set of dramatic and theatrical conventions with the aim of bringing a greater fidelity of real life to texts and performances:

Recreating on stage a facsimile of real life missing a fourth wall, as if the audience is eaves-dropping on a scene.
Encyclopedia of details: food, clothes, landscapes, social habits.
Characters speak in naturalistic, authentic dialogue without verse or poetic stylings, the use of simple, transparent language.
Realist writers fit their style to their subject, ordinary people, using ordinary language, echoing the way regular people spoke.
Acting is meant to emulate human behaviour in real life.
Narratives typically are psychologically driven, and include day-to-day, ordinary scenarios.
Narrative action moves forward in time.
Supernatural presences (Gods, ghosts, fantastic phenomena) do not occur.
Sound and music are diagetic only.
Howells was primarily a novelist, and in the American world of prose, it was Samuel Clemens (1835–1910), better known by his pen name of Mark Twain, who best challenged early 19th-century American literary language that tended to be flowery, sentimental, or ostentatious—partially because they were still trying to prove that they could write as elegantly as the English. Ernest Hemingway stated that all American fiction comes from Mark Twain's novel "The Adventures of Huckleberry Finn." Twain's style, based on vigorous, realistic, colloquial American speech, gave American writers a new appreciation of their national voice. Twain was the first major author to come from the interior of the country, and he captured its distinctive, humorous slang and iconoclasm. For Twain and other American writers of the late 19th century, realism was not merely a literary technique: It was a way of speaking truth and exploding worn-out conventions.

The other novelists whose works were considered part of this 19th century movement included Stephen Crane, Horatio Alger, Henry James and, of course, William Dean Howells.

Howells and Realism in Dramatic Literature




The greatest literary influence exerted on Howells was by the writer whom he called "one of the greatest realists who has ever lived" -- Carlo Goldoni (1707-1793), the Italian playwright and librettist from the Republic of Venice. His works include some of Italy's most famous and best-loved plays. Audiences have admired the plays of Goldoni for their ingenious mix of wit and honesty. His plays offered his contemporaries images of themselves, often dramatizing the lives, values, and conflicts of the emerging middle classes. He wrote "Servant of Two Masters" and "Mistress of the Inn."

There is abundant evidence that the Venetian dramatist more than any other writer, turned Howells from Romantic poet into prose Realist. It was through Goldoni's eyes that Howells, on assignment as consul to Venice from 1861-1865, first saw the possibilities of prose fiction based on the commonplace events of contemporary life. Later Goldoni's plays provided direct inspiration for his own comedies and farces. Howells, (in "My Literary Passions," 1895):

"I had a notion that, in literature, persons and things should be nobler and better than they are in sordid reality; and this romantic glamour veiled the world to me, and kept me from seeing things as they are. But in the lanes and alleys of Venice I found Goldoni everywhere. Scenes from his plays were enacted before my eyes, with all the charming Southern vividness of speech and gesture, and I seemed at every turn to have stepped unawares into one of his comedies. "

Howells defines Goldoni's elements of realism, as if he is talking about his own:
"a) the truthful treatment
b) of commonplace material, which produces
c) proper moral effect,"

".. there is seldom anything more poignant in any one of [Goldoni's plays] than there is in the average course of things. The plays are light and amusing transcripts from life, for the most part, and where at times they deepen into powerful situations, or express strong emotions, they do so with persons so little different from the average of our acquaintance that we do not remember just who they are."

"I know none of his plays that insults the common sense with the romantic pretense that wrong will be right if you will only paint it rose-color. He is at some obvious pains to 'punish vice and reward virtue' ... no feigning that passion is a reason or justification ... nor that suffering of one kind can atone for the wrong of another."

The Railroad Plays

There are four plays in the Howells canon that take place in and around trains, The Parlor Car (1876), The Smoking Car (1898), The Sleeping Car (1882), The Albany Depot (1889 see illustration at left) . The designation, "The Railroad Plays" was applied by Alan Ackerman, a theater scholar, as a point of discussion for the Dramatic Realists' appropriation of common public spaces as settings for private intimate exchanges between characters. [American Literary Realism, 1870-1910 Vol. 30, No. 1 (Fall, 1997)] Ackerman notes this as a fundamental difference between late 19th century realistic drama and the romantic melodrama that came before it, the notion of a transparent "fourth wall" through which the audience unobserved can peer into the private world of the play.

The everyday settings of his plays include a hotel, a New York apartment, a train-car: natural places where people easily meet. The incidents are those of real events rather than fictions or drawing room comedy, and depend for the their effect on the subtle contract of social values. These settings and events produce scenes in which one meets probability in everything. These plays transform public spaces into private situations and in doing so are emblematic of the transformation of American theater in the second half of the nineteenth century. This marks this shift of the trajectory of an American theater of rowdy spaces of audience visibility and audibility transforming to darkened auditoriums habituated by only a small cross-section of the population.

In Howells' four plays set either in railroad cars or a railroad depot, several features assume particular importance in representing the contrast between inner (domestic) life and outer (societal) experience:

To begin with, the distinction between private and public is spatialized. Windows, for example, are an important metaphor in Howells' plays for defining types of space. Windows establish an inside and an outside, and, in Howells' plays, windows serve as a vital threshold between the familiar and the unfamiliar. Of course, the railroad car itself is the most important structure for defining space in these plays. The Pullman car represents a self-enclosed compartment that moves within a larger setting (geographic, societal, economic, and technological).

Second, the private-public contrast is gendered. By and large, in Howells' plays, it is the role of women, as representatives of private life, to determine the character of the action even in public spaces. While female characters retain their domestic function, they are no longer relegated to the home; thus, the plays emphasize the problem of private-public negotiations. If, in the railroad, one encounters a world of strangers, a major objective of Howells' women is to identify familiar people (family or friends) among the sea of unknown faces.

And, third, the railroad brings Howells' middle class families into contact with the great unwashed, including both railroad employees and fellow travelers, or folk waiting in a depot. This aspect of the contrast is represented primarily, though not exclusively, in language, through differences in dialect, idiom, or pronunciation between the speech of upper-middle-class ladies and gentlemen and black porters or Irish chorewomen.

... and the Roberts-Campbell "Situation" Comedies


There are twelve Roberts-Campbell comedies, mostly written in the 1880s. These satirical sketches are deservedly considered Howells' best work in drama. In his Introduction to The Complete Plays, for example, Meserve calls therm Howells' "most humorous and stage~ worthy plays".

The humor of a situational comedy depends upon two kinds of familiarity: the principal characters' familiarity with each other and the middle-class audience's familiarity with the principal characters. The characters, moreover, are not only familiar because they are like the audience members but also because the same characters have been seen in previous sketches.


Familiarity of character, in Howells' farces, as in modern television situation comedies, is the starting point for every episode. Each episode requires a slight variation in the situation to set the characters in motion or to reveal some aspect of their personalities, to impel them to an action that is both ordinary and extraordinary. Howells is totally uninterested in "dramatic" plots. Instead, in both his critical essays and his plays, he continually advocates character sketches. The success of a play, he claims, depends "upon incident and character, without those crucial events which in life are so rarely dramatic, but which when they come, arrive with as little ceremony as the event of dinner or of death."

The Roberts and the Campbells are clearly wealthy, maintain servants, and have ample time to turn social molehills into mountains. The titles alone are an indication of the prosaic nature of their pampered lives: The Smoking Car, The Sleeping Car, The Albany Depot, Five O'Clock Tea and Evening Dress to name just a few. They are depictions of manners presented as farcical. Reflecting the literary accomplishments of the author, they are well written, sometimes witty, and well-structured. Each is a slice of the mundane lives and worries of the privileged classes. Likely, Howells knew these people, and likely, he did not admire them.

In each of these farces we encounte
r Mr. and Mrs. Roberts, her Aunt Mary and her brother Mr. Willis Campbell. Episodic app
earances are made by Aunt Mary (Mrs. Crashaw) whose niece is Mrs. Roberts, Mr. and Mrs. Bemis, Young Mr. Bemis and wife, Dr. Lawton, and Jane the serving girl. Each of these people, with the exception of Jane, is prone to excess displays of confused emotion, but none more than Mrs. Roberts.

The slow-witted Mr. Roberts, the mischievous Mr. Campbell, the garrulous Mrs. Campbell and the overly propitious Aunt Mary - tropes as old as Roman farce and which certainly can be traced to Goldoni, from whom Howells took much inspiration for his dramatic writing.

Howells's series of farces begins in 1882 with The Sleeping Car, written, significantly, just before Howells's formal entry into Boston Back Bay society, which culminated in 1884 with the purchase of his house on Beacon Street. The Sleeping Car consists of little more than the single farcial device of mistaken identity carried ad absurdum, and is of importance only because it introduces the main characters of the series of twelve one-act farces, Edward and Agnes Roberts, Agnes's Aunt Mary, and her brother Willis Campbell, who is to acquire a wife later in the course of the series in the person of Amy Somers.


What is most significant about The Sleeping Car is a negative fact: it does not take place within the framework of Back Bay Boston society as the rest of the farces do, and consequently makes no thematic statement about this society. It simply introduces the characters who are to figure in typical farce roles.


Edward is a "literary man'' who goes around in a kind of daze most of the time, trying ineffectually to do the bidding of his loving but semi-hysterical wife. Agnes's chief characteristic as she appears in The Sleeping Car is her penchant for non-stop talking. These two have been unanimously recognized as burlesqued portraits of the Howellses. Willis Campbell in this play rather significantly comes back from a long stay in California, and he functions here, as he will in the rest of the series, as the outsider to "the group," the embodiment of good sense and practicality, and at the same time as the practical joker who, when he sees some social mechanism breaking down, is always ready and willing to loosen a few more screws. The resemblance of Willis Campbell to Mark Twain is unmistakable, particularly in his relation to Howells, the unfailing and always willing target of his jokes.

The Sleeping Car is merely preparation, exposition, as it were, for the eleven Campbell-Roberts farces which follow it, all of which deal with the social aspect of the lives of the characters, and all of which were written after the Howellses entered Boston society life in earnest. In a sense, in fact, the subject of the farces is the social interaction of the characters—the behavior of people within the framework of Proper Boston society and the assumptions which underlie such behavior.

Roberts and Campbell are clearly representative of the two types that are as old as farce itself, gull and coney, or fool and knave, buffoon and churl. Roberts is simply incapable of deceit, and this weakness—as Howells demonstrates, it is a weakness in this society—leaves him at once totally incapable of performing the simplest function, such as engaging a doctor for his sick child (A Masterpiece of Diplomacy 1894) or hiring a cook for his wife (The Albany Depot 1891), and also easy prey for Campbell's knavish practical jokes.


Other "episodes" in the series include:

Campbell's attempts to court a widow with much interruption and scheming in Five O'Clock Tea (1894).
The Roberts' assume the worst when their family dinner guests are very late, and, after much suffering, they turn up stuck in The Elevator (1885).
Mr. Roberts finds himself in a quandary when a planned evening out on the town is put in jeopardy because he can't locate his formal suit in Evening Dress (1893).
The Unexpected Guests (1893) arrive on the wrong night for an unprepared dinner and yet are shamed into behaving as if they were expected.
In The Garrotters (1885) Roberts' watch is stolen and he chases down the robber and retrieves it, only later to realize it wasn't the robber.
Among the RSVPs Mrs. Campbell receives for a party is a mash note, sent in error from a handsome young swain, in A Likely Story (1885), with which Mr. Campbell creates mayhem.
In order to win an argument with his wife about the courage of women versus that of men, Campbell pretends to see a mouse (The Mouse Trap 1885) and his wife, the women servants and, later, women guests fly into inconsolable panic.
In the twenty-four hours of The Sleeping Car (1883), a series of mistaken identities finds Campbell, Mr. and Mrs. Roberts, Aunt Mary and the Roberts' son, climbing in and out of wrong berths, creating a series of overnight interruptions for an innocent passenger from California.
Travelogue
Trains to Newton Centre


The play is set on the "smoking car" of the Boston and Albany Railroad, waiting to head west from the Albany Depot (see picture to the left.)


When the Erie Canal opened in 1825, New York City's advantageous water connection through the Hudson River threatened Boston's historical dominance as the trade center of the United States. Since the Berkshires made construction of a canal infeasible, Boston turned to the emerging railroad technology for a share of the freight to and from the Midwestern United States.

The Boston and Worcester Railroad was chartered June 23, 1831 and construction began in August 1832. The line opened in sections: to West Newton on April 16, 1834; to Wellesley on July 3; to Ashland on September 20; to Westborough in November 1834; and the full length to Worcester on July 4, 1835. The original single-track line was doubled-tracked from Boston to Framingham in 1839, and on to Worcester by 1843. In 1843 the B&W introduced season passes to West Newton for $60, effectively introducing the concept of commuter rail. The connection from Boston to Albany formed the longest and most expensive point-to-point railroad yet constructed in the United States. Two mergers, on September 4, 1867 and December 28, 1870 brought three companies, along with the Hudson and Boston Railroad, together into one company, known as the Boston and Albany Railroad. The New York Central and Hudson River Railroad leased the B&A for 99 years from July 1, 1900. This lease passed to the New York Central Railroad in 1914; throughout this, the B&A kept its own branding in the public eye. The NY Cemtral merged into Penn Central on February 1, 1968.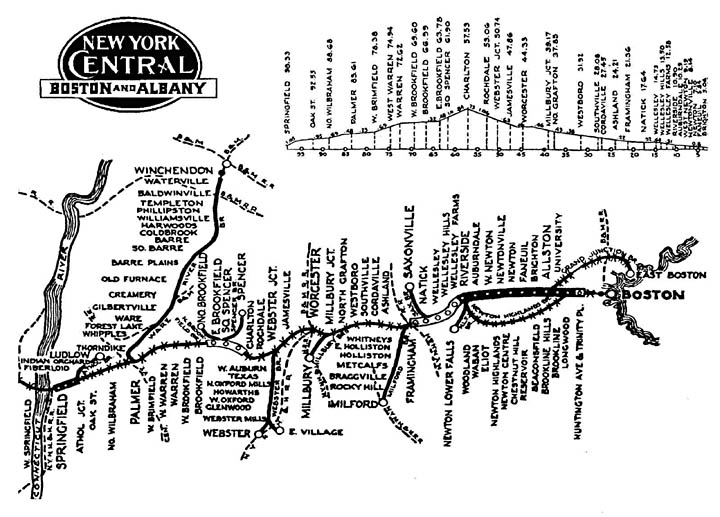 In William Dean Howell's play, both the The Young Mother, ("Is this the car for Newton Centre?") and Roberts ("I 'm going to Newton Centre myself. It is the car for Newton Centre, isn't it?") are headed to the same place. The Newton Centre depot is pictured left. To get to Newton Centre you had to take the Highland Branch line also known as the Newton Highland branch. It was a suburban railway line for Boston. It was opened by the Boston and Albany Railroad in 1886 to serve the growing community of Newton, Massachusetts.

There is good reason to double-check and make sure you board the train that will leave the mainline, follow the Highland Branch, including Newton Centre, and then return to the Boston-Albany mainline at Riverside Junction.

Newton Centre is seven miles west of downtown Boston, and with the advent of railroad service, in the late 19th century, it quickly grew from a farming community to a middle-class family suburb, well-heeled Bostonians snapping up large properties convenient to the train station, for large homes and grounds. Newton Centre was proud home to an early suburban mall, of sorts, in Bray's Block, see picture above. Bray's Block or Bray's Hall (1893), a commercial block, originally contained a large assembly hall, a bowling alley, indoor tennis courts, offices, and storefronts. Bray's Block stands opposite the Newton Centre Railroad Station.

Parlor Cars and Smokers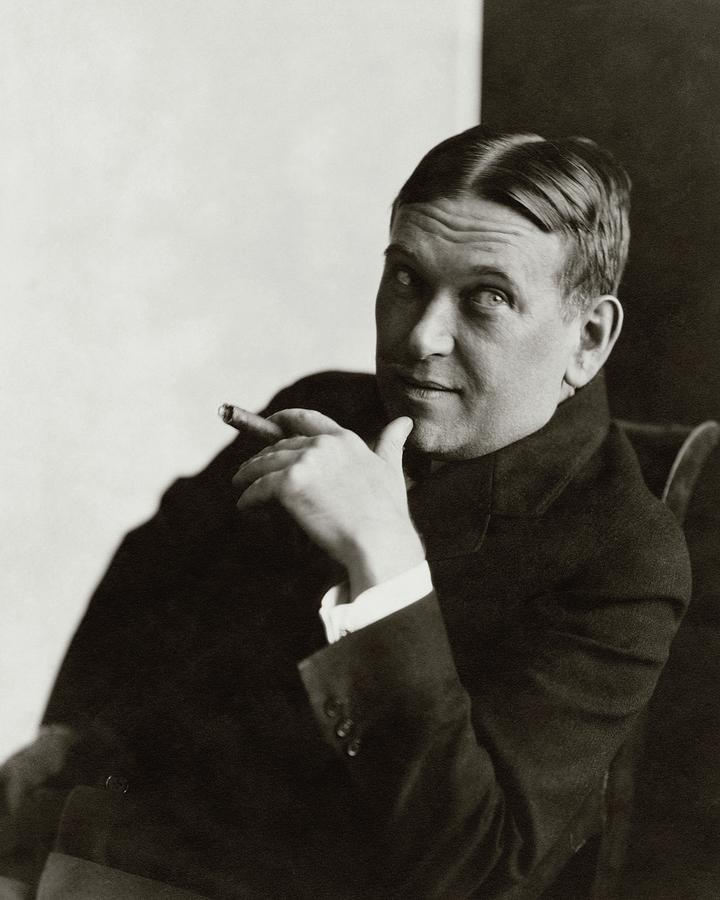 "A Pullman parlor car offered respectable and domestic amenities to those able to pay for them. The car interior resembles a fine parlor in a private home, and no parlor was complete without a woman to preside over it." (From "Railway Passenger Travel," Scribner's Magazine, September 1888) Parlor accommodations were appreciated by those who used them because of their exclusivity.

Journalist H. L. Mencken (1880 - 1956, picture left) called the parlor car "the best investment open to an American": "He not only has a certain seat of his own, free from intrusion and reasonably roomy; he also rides in a car in which all of the people are clean and do not smell badly. The stinks in a day-coach, even under the best of circumstances, are revolting. The imbecile conversation that goes on in parlor-car smoke-rooms is sometimes hard to bear, but there is escape from it in one's seat; the gabble in day-coaches is worse, and it is often accompanied by all sorts of other noises."


Reflective of Mencken's churlish quote above (that's Mencken to the left) much of W. D. Howells' comedy arises from the struggles of his Brahmin characters to keep their cool in circumstances that appear out of control. His otherwise distant and cossetted upper-middle-class characters find themselves face-to-face with the vagaries of railroad equipment and schedules, of passengers and personnel.



To the right: The Buffet-Smoking Car, circa 1905, of the Los Angeles Limited, a train that traveled back and forth from Chicago to Los Angeles.




Perhaps the grandest of the Pullman "smoking cars" was 'The Machena,' on display at the World's Columbian Exposition, Chicago 1893: 'The Machena' is a smoking car, and contains a bathroom, barber shop, a baggage room, and a section with berths. The barber shop has a leaded glass dome, singularly beautiful. The wash stands are of Mexican onyx. The inside finish shows must elaborate carving. The car is equipped with a dynamo and an engine for lighting the entire train. There is a handsome writing desk and bookcase in the smoking room. The chairs and sofas are upholstered in leather of Moorish design.

(From "Everything in its Place: Gender Roles on America's Railroads, 1830-1899 R. David McCall, Virginia Polytechnic Institute and State University)


American railroads in the nineteenth century established separate areas for different types of passengers. The railroads associated certain types of behavior with a specific race, class, or gender, and assigned space on cars accordingly. Railroad managers designated the accommodations they felt safest and most refined for well-to-do white women and their escorts. African Americans, Chinese, and immigrants were allocated space based on the white society's perception of their relative worth. Middle-class white men had more options, and were most likely to be assigned to a space totally on the basis of behavior. The railroads used respectability as the standard. Those who the railroads presumed to be respectable, white women, were ushered to the ladies' car. Those who the railroads presumed to not possess respectability were segregated. For white men, respectability, especially in its purest form of gentility, was a role. They could assume the role and be accommodated in the first-class cars, or could reject it to ride elsewhere.

Three distinct areas comprised most nineteenth-century passenger trains. As noted, the middle of the train was made up of day coaches, where travelers rode who either were not going very far or who could not afford the comfort of a sleeper or parlor car. In day coaches behavior generally reflected the blend of class and sex that usually comprised the mix of riders. Conduct was constrained, but not to the extent it was in the first-class cars. Significantly enough, the last and first passenger-carrying cars bracketing the day coaches defined opposite notions of comfort and behavior. Ladies' cars demonstrated genteel domesticity with all of its overtones of Protestant Christianity. On the other hand, in smoking cars behaviors reflected freedom from care and constraint.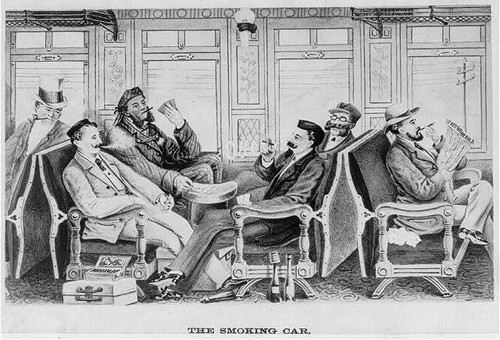 It was no accident that very few women traveled in smoking cars, and that only those gentlemen accompanying ladies had access to ladies' cars. Ladies' cars and smoking cars did not mirror the concept of separate spheres so much as they demonstrated gendered archetypes of Victorian gentility. A genteel woman's role was to "be, " an active man's role to "do."'Even the terms used to describe the passenger cars allocated to gentility or the lack thereof reflected this dichotomy. "First-class," "palace," "parlor," "chair," and "ladies'" cars all refer to a state of existence, of being. Only "sleeping car" in any way suggests an activity, and even then the word reflects more of a state of being than of doing.

On the other hand, a "smoking" or "smokers'" car suggests greater dynamism. During the 1860s and 1870s, first-class cars such as parlor and palace cars were the center of activity, with card tables and occasionally small libraries. By the 1880s however, such pastimes had tended to move to the smoking cars. Smokers often contained reading rooms, tables for writing or card-playing, and sometimes even a barber shop, where a man could get a shave, "have his hair cut, curled and shampooed," or even take a bath. Descriptions of parlor or palace cars tend to the static, such as "fitted up with the utmost elegance," and having "easy chairs, couches, tables, and every drawing-room prerequisite."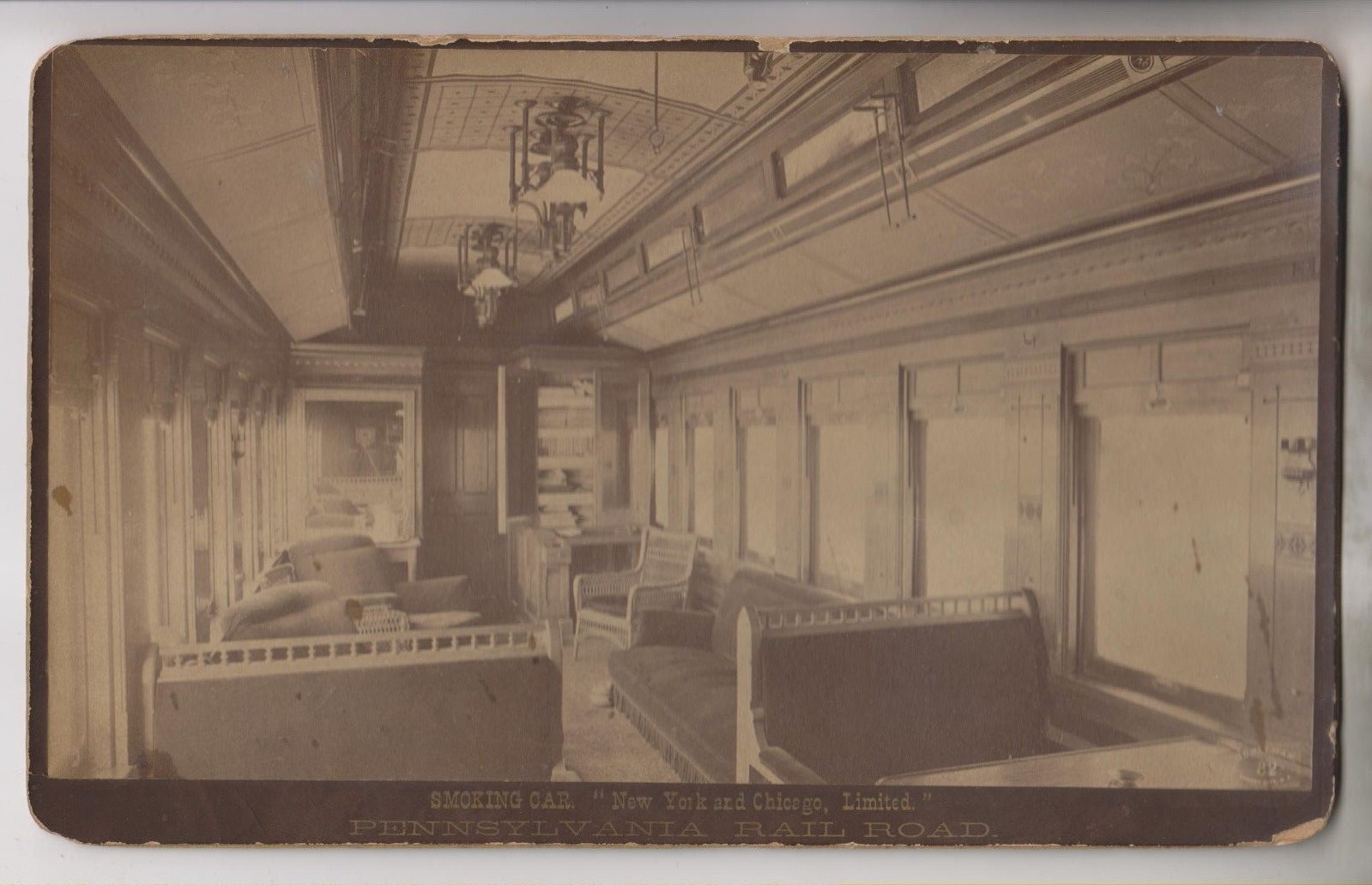 To the left: CIRCA 1880s CABINET CARD - SMOKING CAR PENNSYLVANIA RAIL ROAD - GUBELMAN PHOTOG

The Railroad Gazette reprinted from the Yonkers (N. Y.) Gazette a marvelous commendation:

Many men, though they may not wish to smoke, on taking a train for a short trip usually prefer a seat in the smoking car. They say that in case of a crowd when once they get a seat in the smoking car it is theirs until they choose to give it up. Besides, they like the company. It is free and easy, good-natured and jolly. One seldom sees a sour face in a smoking car. If there is one it soon vanishes to the rear after it has finished puffing its own cigar. Most of the pleasant stories of the train are told in the smoking car and many good songs are there sung and no one objects to music or hearty laughter. . .. The smoking car is one of the institutions of American travel. Long may it roll.

This short passage is packed with significance. The writer of this little piece displayed a number of assumptions. "Free and easy" was not possible with ladies present; a man who did not want to be "good natured and jolly" would quickly return to the ladies' car ("vanishes to the rear") after he finished his cigar. The image here is of action: telling stories, singing songs, and laughing — not to mention smoking. "Once they get a seat in the smoking car it is theirs until they choose to give it up" indicates strongly that there were men
who did not eagerly stand so ladies could sit down. Railroad accommodations developed over time from general seating to distinct and separate spaces based on sex, class, and race.



To the the right: Car Interior Reprint postcard. Printed on reverse "No. 46 - Pullman's Palace Smoking Car. C.E. Wakins Series. (Courtesy N.Y. Historical Society)". C. E. Watkins was most likely Carleton E. Watkins (1829-1916), noted California photographer.



Behavior formed another category of distinction. Gentlemen not accompanying ladies generally could not ride in the ladies' car. The period of about 1840 to 1870 saw another restriction applied — against smoking. Charles Dickens commented in 1842 on the general way of things at the time: "There is a gentleman's car and a ladies' car: the main distinction between which is that in the first, everybody smokes; and in the second, nobody does.

This state of affairs continued for the most part until well after the Civil War. At some point after the war, probably in the early 1870s, a "colonel" was quoted as complaining that: "Under the lock- car rule, all other cars are virtually smoking cars."

The lock-car rule refers to the restriction of only allowing ladies and their escorts into the ladies' car: "There was a time when every man on a railroad train who wanted to smoke assumed the right to do so in every car except what was known as the 'ladies' car,' but the demand of the majority of male passengers gradually compelled the enforcement of a regulation that there should be no smoking unless there was a car set apart for it."

By 1885, behavior reflecting gentility was viewed as a legitimate distinguishing characteristic, not only between races and classes, but within them. Men could choose to demonstrate gentility or not.


Railroads had always sought to moderate and restrict behavior, both in an effort to protect property from damage and to avoid discouraging women from traveling. In 1853, the American Railroad Journal published the content of some notices that the Michigan Central Railroad had posted in its cars. These notices concerned such things as procedures for handling baggage, information about lunch stops, and prohibited behaviors. That the railroad was serious about its expectations of passengers is evidenced by the fact that, as the American Railroad Journal pointed out, these notices were "posted between the windows, throughout the cars." The ARRJ also found these regulations to be serious and valuable enough to be "worthy the attention of other companies." Second on the list on these notices, just after advice on checking and claiming baggage, was the following: "Gentlemen are requested not to place their feet upon the cushions, or otherwise deface the cars."

"The smoking car" was for the most part a misnomer, at least by the late 1870s. Generally, no whole car was set aside for smoking once smoking became a restricted activity. In parlor and chair cars, separate compartments were built to accommodate first-class smoking passenger. In sleeping cars, smoking facilities were seldom specifically allocated. Smokers traveling in sleeping cars had to stand in the vestibule outside the car or walk to another car in order to smoke. The standard smoking facility supplied by most railroads was a combination smoking and baggage car, or smoking and mail car. By the late nineteenth century, an interesting dichotomy had developed: that of smoking cars as either second-class or privileged accommodations.


On the privileged side, the smoking car took on extreme ornateness and complexity. The Marchena epitomizes this development with its elaborate décor and multiple spaces, such as the barbershop. The late nineteenth- and twentieth-century lounge or club car ultimately replaced this line of evolution. "Free and easy" fairly describes the behavior in these cars. For the most part, these smoking cars were well maintained and decorated, but behavior did tend to be less than genteel. Accommodations on the smoker varied greatly between railroads and areas of the country. As demonstrated by the description of the Marchena, a smoking car could be quite lavish.

On the other hand, because the smoking car was so often a repository for the less-than-respectable, railroads sometimes assigned older equipment for the purpose. Often, particularly in the South, the "smoking car" comprised a section of the baggage car, sometimes the whole of it. Shelves for baggage might double as seats in a bare and unlighted space, cavernous except for whatever trunks and bags were about. Even if the physical accommodations matched or exceeded those of a standard day coach, conductors directed persons considered less than respectable enough for first-class or even standard cars to the smoker. One important aspect of a "smoker" was the escape it provided from the responsibility inherent in traveling with ladies.

Conductors and brakemen were directed by regulation to take special care "to accommodate a lady, an invalid, or an exacting passenger." Beyond regulations, societal convention expected that a passenger conductor act like a gentleman. He had to do so, because he in fact and usage was the official protector of the women on his train. Advising her readers on how to approach traveling, American writer Lillian Foster observed that "if you are put under the care of a handsome and gentlemanly conductor, you will receive every polite attention." An aristocratic Briton agreed, stating that a lady could travel in America "in perfect comfort and safety," because "The conductors and all the train officials devote themselves most loyally to her service."

References in the Play

The Steamer from Bangor

THE YOUNG MOTHER: You see, I've got to go and get my bag. I had it sent over from the boat — we just got in this morning, off the boat, you know — the Bangor boat

Bangor residents valued their mass transportation system in a way that we can only imagine in the era of the automobile. Steam-powered trains left the Queen City at all hours of the day and night to Boston, New Brunswick, Fort Kent and points in between and far beyond. Electric trolleys plugged along between Hampden and Old Town and Bangor and Corinth, allowing country folk to come to the city to work and shop.

The most beloved links in this impressive system, however, were the steamboats that started roiling the waters of the Penobscot with their giant paddle wheels each spring, whistles blasting, bells clanging and horns bellowing if fog was thick.


Steam travel was a well-established and accepted mode of transportation by the time the two steam vessels Katahdin and Cambridge began their twice-weekly runs between Bangor, Maine and Boston, Massachusetts in the year 1875. For Maine, this heralded the beginning of the golden age of steam travel. Later that same year, the steamer The City of Richmond began running between Bangor and Portland. Then during the summer months The Pioneer commenced with runs between Bangor and Brooksville. And in the fall, the May Field made the same run, which also included connections with other boats, thus offering unlimited travel opportunities for Mainers. Over the years, vessels were added to the stable of boats and ships owned by a new company, the Sanford Steamship Company (notice the change from the previous name, "steamboat" to "steamship") and in 1882, the company changed its name again, this time to The Boston and Bangor Steamship Company. All of these ships were collectively now known as the Boston Steamers or, colloquially, the Boston Boats.

During the heyday of the Boston Steamers, travel by road was difficult and tedious. Mud, dust and generally bumpy, poor conditions prevailed. But even people living far inland had easy access to the Boston Boats, as long as they could make their way to the nearest railroad station. From there, the trains shuttled passengers to the various ports, where they could book passage on any number of steamships bound for a wide variety of destinations. This system, though now obsolete and antiquated, gave people of the day something few had access to up until then, that being unrestricted freedom of travel.

Imagine traveling from Midcoast Maine to Boston without the stress of highway travel. No bumper-to-bumper headaches, no worry about parking and no need to stop and gas up. Better yet, the trip comes with amenities such as comfortable, elaborately-furnished staterooms, fine food and drink and a safe, relaxing atmosphere.

This was the way it was with steam travel, when people from various parts of Maine would make their way to the nearest steamship landing in the evening and settle in for the night-long ride to Boston. Waking up in the morning fully refreshed was another benefit of this mode of travel.

Baby Girls

Considering infant mortality at the turn-of-the-century, it is surprising that a woman would leave her baby with strangers - why would any mother do such a thing, as the characters in the play suppose, unless she was abandoning it.

In 1900, 30 percent of all deaths in the United States occurred in children less than 5 years of age compared to just 1.4 percent in 1999 (CDC, 1999a; NCHS, 2001a). Infant mortality dropped from approximately 100 deaths per 1,000 live births in 1915 (the first year for which data to calculate an infant mortality rate were available) to 29.2 deaths per 1,000 births in 1950 and 7.1 per 1,000 in 1999 (CDC, 1999b; NCHS, 2001a).

In 1900, pneumonia and influenza, tuberculosis, and enteritis with diarrhea were the three leading causes of death in the United States, and children under 5 accounted for 40 percent of all deaths from these infections (CDC, 1999a). Today, only pneumonia (in combination with influenza) is among the top 10 causes of death overall or for children. Substantial declines in mortality have continued in recent decades.

This decrease in mortality reflects a century's worth of advances in public health, living standards, medical science and technology, and clinical practice. Many infants who once would have died from prematurity, complications of childbirth, and congenital anomalies (birth defects) now survive. Children who previously would have perished from an array of childhood infections today live healthy and long lives thanks to sanitation improvements, vaccines, and antibiotics. In the United States, the average life expectancy at birth rose from less than 50 years in 1900 to more than 76 years in 1999, due in considerable measure to continuing reductions in infant and child mortality (NCHS, 2001c).

Efforts to reduce infant mortality focused on improving environmental and living conditions in urban areas. Urban environmental interventions (e.g., sewage and refuse disposal and safe drinking water) played key roles in reducing infant mortality. Rising standards of living, including improvements in economic and education levels of families, helped to promote health. Declining fertility rates also contributed to reductions in infant mortality through longer spacing of children, smaller family size, and better nutritional status of mothers and infants . Milk pasteurization, first adopted in Chicago in 1908, contributed to the control of milkborne diseases (e.g., gastrointestinal infections) from contaminated milk supplies.

The top five girls names in 1900? Mary, Helen, Margaret, Anna, Ruth.