STEVE: I very emphatically told him that his results were a great surprise to me.
HENRIETTA: But you accepted them.
STEVE: Oh, not at all. I merely couldn't refute his arguments. I'm not a psychologist.
I came home to talk it over with you. You being a disciple of psychoanalysis.
HENRIETTA: If you are going, I wish you would go tonight!
STEVE: Oh, my dear! I surely couldn't do that! Think of my feelings.
And my laundry hasn't come home.



Susan Glaspell (1876 - 1948)

Susan Glaspell is the owner of a legacy that casts a long shadow over American theater. In her own lifetime, she was a well-known and best-selling author, and her one-act play Trifles is a staple of American anthologies. But after her death her work fell into relative obscurity. In the 1970s her work received new attention and now she is recognized as an important feminist voice from the early century, though it is still rarely seen.

The daughter of a hay farmer and school-teacher in rural Iowa, earned her BA at Drake University in 1899 and began work as a journalist for the Des Moines Daily News. By 1901 she was working as a freelance writer and participating actively in Davenport's literary and political circles.

By 1911 she had published two novels and stories in numerous magazines. In 1913, she married George Cram Cook (1873 – 1924), a well-born former English and Classics professor, part of the Davenport group of writers. To escape the gossip of their Mid Western community--he was already twice divorced, and a socialist who had given up a university career to truck farm--the two resettled among like-minded political and artistic spirits, including John Reed, in Greenwich Village. And spent their summers in Provincetown, Massachusetts.

Over the next few years Glaspell directed and acted in Provincetown Players productions after the group began its New York productions, while gaining critical acclaim for her own one-act plays, which were distinguished for their formal experimentation and representations of women's liberation from social and psychological oppression. Amongst these works are Trifles, her best known one-act, based on a murder she covered when reporting in Iowa. (Pictured right, the 1916 Provincetown Players production.)


Glaspell's early published work took the form of short stories and three novels, but in the mid-1910s she and Cook co-wrote Suppressed Desires, which they unsuccessfully proposed to the Washington Square Players. In the summer of 1915, after passionate conversations with friends about the state of American theater, they
staged this and two other plays on Mary Heaton Vorse's wharf, and the Provincetown Players was born.

Glaspell and Cook grew disenchanted with the Broadway aspirations and infighting of fellow Provincetown Players, and left to live a simple, rustic life in

Greece in 1922. She returned to settle in Provincetown following Cook's death in 1924, and she continued writing, chiefly novels.

She also worked in Chicago as director of the Midwest Play Bureau for the WPA's Federal Theater Project in 1936, but resigned after two years. Returning again to Provincetown, she devoted her remaining years to writing fiction.

Since the late 20th century, critical reassessment of women's contributions has led to renewed interest in her career and a revival of her reputation. In the early 21st century Glaspell is today recognized as a pioneering feminist writer and America's first important modern female playwright.

The Metropolitan Playhouse has produced two of Glaspell's full-lenth works. Inheritors was first performed at Provincetown Playhouse on April 27 1921. The Metropolitan Playhouse production, 2005.



In 2015, Metropolitan produced

Alison's House (with

Amanda Jones, right, Photo: Debby Goldman)

It was considered her major dramatic achievement, in 1931, produced at Eva Le Gallienne's Civic Repertory Theatre on 14th Street, New York, on 1 December 1930. It was awarded the Pulitzer Prize for Drama in 1931. Inspired by the life and work of the American poet Emily Dickinson, Glaspell set the play in her native Iowa.







The Provincetown Players: "A Chance to Work Out Their Ideas in Freedom"
In the summer of 1915, Susan Glaspell and husband George Cram Cook helped found a summer theater on a Cape Cod wharf that would help begin America's little theater movement: THE PROVINCETOWN PLAYERS.

The Players moved to 133 Macdougal Street in New York in the fall of 1916, where they devoted their work to support new playwrights and experiments in staging as an antidote to Broadway commercialism. By 1922 the company had produced over 90 new plays, including the first productions of Eugene O'Neill's early work, eleven of Glaspell's works, and those of more other women writers than any other theater of the time.


The impact of the Playhouse resounds one-hundred years later. Favoring intense intimate dramas over the musical reviews, light comedies, and melodramas playing in the Broadway houses, the Provincetown Players gave decidedly Modernist playwrights a venue to practice their craft – or as Cook described it "a chance to work out their ideas in freedom". Over its year lifetime the Playhouse presented plays by other influential Modernists, including Djuna Barnes, Edna St. Vincent Millay, ee cummins and Wallace Stevens. To Provincetown can be directly traced the rise to the Little Theater Movement in America, forebearer of the regional theaters we know today.

I've Got A Wharf, Let's Put on a Play

The most immediate organizational precursors of the Provincetown Players were located down the block and were characterized by the direct participation of key figures among the founders of the Provincetown Players. The Liberal Club, "A Meeting Place for Those Interested in New Ideas," was an old New York institution which, shaken up by the new generation of Greenwich Village leftists in 1912, split apart over the issue of allowing "Negro" members and, under the leadership of Henrietta Rodman, located itself in a new headquarters at 137 Macdougal Street, off Washington Square. The new Club was the center of much of the resurgence and renaissance associated with Greenwich Village during the flamboyant but fertile years between 1912 and 1918. The Liberal Club would come to function as the chief meeting place for the artists, writers, and leftist thinkers who were part of what has been characterized as the New York Little Renaissance.


The dramatic wing of the Liberal Club was informally known as "The Dell Players" because it featured plays written by Floyd Dell (pictured left) and staged under his direction. Dell was part of the Davenport Group of writers in Iowa, with Susan Glaspell and George Cram Cook, and had followed them to New York in 1913. Dell was asked "to write a play to produce at the housewarming of the Liberal Club" when it moved to Greenwich Village in 1913.

Dell wrote that "the Village enjoyed being satirized, and this was a satire upon everything in which the Village believed." Historian Steven Watson has suggested that the play "set the tone for the new Liberal Club." Presenting the Village through the eyes of a newcomer, Dell's play satirized modern ideas and was sprinkled with topical references to anarchism, Futurism, suffragism, and Montessori schools. It was produced on a shoestring, with no costumes, no curtain, no stage, no lights. Sherwood Anderson, Helen Westley, and other cast members improvised new lines when they forgot the ones Dell had written.


The Club soon acquired a movable stage, curtains, and footlights, and produced a bill of three one-act plays written by Dell every few months. Dell's plays were written for a self-enclosed amateur group. He noted that "some were romantic and poetic, but most of them were satirical little comedies making fun of ourselves." The Dell Players embodied the joyful amateurism, the group spirit, and the spontaneity that characterized the Provincetown Players at its beginning, as well as a coterie narrowness that was eventually to give way among the Provincetown Players to broader social concerns and a more serious aesthetic vision.

However, there was a group of Liberal Club members who wanted to take their theatrical work more seriously than Dell was interested in doing . Lawrence Langner, later to found the Theatre Guild, thought that the dramatic wing of the Liberal Club was "absurd." They planned the new theatre during the winter of 1914, and, according to Langner, "as soon as word spread around among the younger generation that we were going to start a theatre, many of the young writers in the Village began to turn out plays. As none of us had the experience or patience to get further along than one act, we limited our efforts in the beginning to one-act plays, which was wise."

The Washington Square Players' most immediate contribution to the formation of the Provincetown Players was the disappointed playwrights whose work it began to reject. "We have only one policy in regard to the plays which we will produce – they must have artistic merit. Preference will be given to American plays, but we shall also include in our repertory the works of well-known European authors which have been ignored by the commercial managers." This meant that many plays were rejected, particularly those by neophytes that had an amateur quality.

Various evidence suggests that a number of plays that were produced by the Provincetown Players during 1915 and 1916 had been rejected by the Washington Square Players. Glaspell and Cook's Suppressed Desires was rejected by the Washington Square Players as "too special" – much to the authors' chagrin. Their disappointment must have been bitter, for, although Langner lists them among the members of the Washington Square Players in the first year, they soon dropped out.

Provincetown


Provincetown was then a ramshackle village, a haven for Portuguese fishermen, sailors on benders, Bohemians from Greenwich Village and artists and intellectuals fleeing the war in Europe. It was a place where conventions were shed and parties got out of hand. In 1915, the summer before Eugene O'Neill arrived, a group of friends had come from Greenwich Village to Provincetown. They were into theater, Freud, Marx and free love.

"It was in this strange atmosphere of art, mayhem and intoxication that the Provincetown Players was born," wrote Debra Lawless in "Provincetown: A History of Artists and Renegades in a Fishing Village." "While many people founded community theater groups, this one had an indefinable magic that would bestow on its members a Nobel and five Pulitzer Prizes and, as many later said, change the face of American theatre."

Although the exact circumstances that prompted the first performance will never be known, it is clear that the group that became the Provincetown Players began with the performance on July 15, 1915, at the home of writers Neith Boyce and Hutchins Hapgood, of two plays:

Neith Boyce's Constancy, a spoof about the romance between John Reed and Mabel Dodge. The audience was highly entertained.

Susan Glaspell and George Cram 'Jig' Cook, wrote the second play that night, Suppressed Desires.

Robert Edmond Jones created a simple set for the plays, staging Constancy on the verandah, and then having the audience turn their chairs around to view Suppressed Desires.

The actors and the audience were so pleased with the experience that they decided to repeat the performance, adding two additional one-act plays to make a bill for which they could charge admission. Mary Heaton Vorse owned a wharf with three buildings, one of which was emptied out in order to convert the building into a rude theatre, with a capacity of about 100.



The performance of Constancy and Suppressed Desires was repeated in August, and a second bill of other plays was produced on September 9, offering similar fare, satirizing Village events and personalities.

Cook took over the plans to refurbish the theatre on the wharf. In the following summer, electricity was installed, an ingenious stage was built in sections that could be moved by hand, circus-style seating was installed, and the theatre was painted. The Provincetown Theatre officially opened on July 13th.

The bill included three one-act plays: a revival of Suppressed Desires; a new realistic play by Neith Boyce, Winter's Night; and John Reed's send-up of Tom Sawyeresque romanticism, Freedom. The second bill of the summer is a good indication of what the Provincetown Players was about to become: it included three one-act plays notably Eugene O'Neill's Bound East to Cardiff.

That fall they took their experimental theatre to Grenwich Village and opened a small playhouse in the a building next door to the Liberal Club on MacDougal Street. November 1916, Suppressed Desires was included in the second bill of the recently created Provincetown Players in their New York theatre (see the playbill to the right).

In 1918, this brief satire on psychoanalysis was performed at the Comedy Theatre by the Washington Square Players - who now preferred to forget that they had refused the play three years previously, thus goading its authors to create their own theatre. One reviewer declared it to be "keenly written and a joy throughout." The play proved to be a huge success: as Glaspell would write later, it was: "Given by every little theater, and almost every Methodist church; golf clubs in Honolulu; colleges in Constantinople; in Paris and China and every rural route in America." (See press release to the left.)
The People and Places of Suppressed Desires


The audience of friends invited to the first performance of Suppressed Desires would have delighted in all the allusions both to current trends and to the marital problems of common acquaintances. There are a number of "in-jokes" and contemporaneous references, such as the distinctive names of Henrietta and Mabel which reference two colorful and central figures of Greenwich Village's bohemian circles and all of the locations referred to were well known to the early audiences of the Provincetown Players. Nonetheless, today the play is still amusing and wholly comprehensible to an audience ignorant of the ins and outs of the human relationships of that specific groups of people vacation on the Cape in 1915.

By 1915, the Village, was with increasing frequency being described as a Bohemian Republic or city-state. The first or founding phase, 1912-1916 was a period of intense intellectual and artistic creativity led by a small group of Villagers, connected by The Masses, Mabel Dodge's salon, the Liberal Club, the Washington Square Bookshop and the Provincetown Players. (Called the Masses collective, since many of the members of this clique somehow connected to that publication, as writers or spouses or roommates. From 1912 Max Eastman was editor; during his tenure the magazine followed a radical socialist policy. It published poems, stories, and political commentary by writers such as Sherwood Anderson, Carl Sandburg, and Louis Untermeyer; the radical journalists John Reed and Floyd Dell were staff members and regular contributors. The Masses published some of the best illustrations of the period.)

This phase of American radical life brought Susan Glaspell and Jig Cook to New York in 1913. And some of the names, places and causes were captured in Suppressed Desires.

The days of this in-group did not last long. The publicity their activities had generated led a larger group of newcomers to migrate to the Village. Some of the newcomers came to emulate others to gawk and more than a few to try to profit frommarketing bohemianism to tourists and pretenders. By 1917, and our entrance into WWI, it became clear that bohemianism for bohemianism's sake had triumphed over politicial and cultural substance within America's Montmartre.


The Salons of Mabel Dodge (1879-1962)


Suppressed Desires contains the following stage direction:

MABEL comes in from door left, the side opposite STEVE,
so that he is facing her. She is wearing a rather fussy negligee in contrast to
HENRIETTA, who wears "radical" clothes. MABEL is what is called plump.

Mabel was a very familiar name to the Villagers. It must have amused them greatly to meet the suppressed sister with the same name as the notorious and flamboyant Mabel Dodge, who was never one to suppress any desire if she could help it. Like Stephen in the play, one of her three husbands, Edwin Dodge, was an architect. And she had a torrid affair with John Reed, who was an "editorial writer," like Lyman Eggleston.

Dodge was an American writer, salon hostess, patron saint, and inspiration to an assortment of talented artists, writers, and political radicals in the early decades of the 20th century, a leading symbol of the "New Woman."

Born into money, in Buffalo, she spent years in Florence, playing hostess to a coterie of Europe's leading artists. And then Mabel returned to New York and moved to an apartment in Greenwich Village, the heartland of America's avant-garde.

Lincoln Steffens, the famous muck-raking journalist was impressed with her cultured and winning ways: "You attract, stimulate, and suit people, and men like to sit with you and talk to themselves!," Steffens told her. "You make them think more fluently, and they feel enhanced ... Now why don't you see what you can do with this gift of yours? Why not organize all this accidental, unplanned activity around you, this coming and going of visitors, and see these people at certain hours. Have Evenings!"


Her salons were revolutionary for their time, and popular: on some occasions up to 100 people filled her apartment. Not limited to "artists' talks," these evenings delved into topics such as Freudian psychoanalysis (which had just been introduced in the U.S.), free love, birth control, trade unionism, and anarchism.

There, at 23 Fifth Avenue (see picture right), she launched the most successful salon in American history. For the next three years Mabel entertained the "movers and shakers" of pre-war America, men and women who were sweeping in their condemnation of bourgeois values and industrial capitalism. Gathered together at one of Mabel's "Wednesday evenings" one might find artists, philosophers, writers, reformers, and radicals of all stripes: Upton Sinclair, Margaret Sanger, Walter Lippmann, Lincoln Steffens, Emma Goldman, "Big Bill" Haywood, and Hutchins Hapgood. Mabel was determined to make herself the mistress of the spirit of her age by embracing its most idealistic and committed men and women. She wrote:

"It seems as though everywhere in that year of 1913, barriers went down and people each other who had never been in touch before."

So on Wednesday (or Thursday) evenings, Dodge opened the rooms of her Fifth Avenue apartment to a kaleidoscopic array of guests of every idealogical hue:

"Socialists, Trade-Unionists, Anarchists, Suffragists, Poets, Lawyers, Murderers, 'Old Friends,' Psychoanalysts, IWWs, Single Taxers, Birth Controlists, Newspapermen, Artists, Modern-Artists, Club Women, Women's-place-is-in-the-home Women, Clergymn and just plain men."

Mabel Dodge gave generously of her time and money to support the various causes she believed would liberate Americans from the shackles of their Victorian past. She helped to sponsor the watershed Armory show which introduced post-impressionist art to a largely unfamiliar American audience; contributed to The Masses, the leading left-wing literary and political journal of her day; wrote a syndicated newspaper column popularizing Freudian psychology; and supported a host of liberal organizations and - most significantly for the purposes of Suppressed Desires - hosted evenings dedicated to the discussion of psychoanalytic theory.

As one reporter described her in the early 1920s, "the most peculiar common denominator that society, literature, art, and radical revolutionaries ever found in New York and Europe." In attempting to alter the direction of American civilization, she captured the imaginations of her generation's most talented writers, artists, and thinkers, and profoundly influenced their understanding of modern America.

Henrietta Rodman (1877 - 1923)


Suppressed Desires contains the stage direction that Henrietta Brewster wears radical clothes.

Everyone knew Henrietta Rodman. Hardly a woman who was struggling with Suppressed Desires.

Playwright Floyd Dell said that Rodman "had an extraordinary gift for stirring things up. Incredibly naïve, preposterously reckless, believing wistfully in beauty and goodness, a Candide in petticoats and sandals."

Her Bohemian public persona was considered eccentric at best: she wore sack-like dresses and sandals long before they were in fashion; her hair was bobbed; she smoked cigarettes. She threw crowded dinner parties in her top-floor apartment.

Of her many causes celebre, she taught English and was a vocational counselor in the New York City school system. She was openly opposed to the school board's restrictive policies on married women teachers, she married a psychologist friend, Herman de Fremery (a.k.a. Herman Defrem), in February 1913, and announced it to the press, saying, "If the married state affects a woman's work, the authorities can mark her accordingly. If it does not affect her work, and if she is as good a teacher as she was before, she deserves promotion, if it comes to her." She also referred to the Board of Education, in print, as "mother baiters." She was suspended according to New York City Board of Education policy; a well-publicized and lengthy appeal followed, serving Rodman's purpose by keeping the issue in headlines.

She also took on the genteel members of the Liberal Club, a debating society for socially progressive New Yorkers. Although during the 1910–1912 period its meetings were held in the Gramercy Park area, Villagers—Lincoln Steffens, Hutch Hapgood, and Percy Stickney Grant— played leading roles as officers or charter members. The club's monthly meetings followed a format in which a member or guest speaker presented a general proposition—in February 1910 Steffens took as his theme "there is good in good people," for example—and then defended the stated position against all challengers.

In the summer of 1913, however, various internal conflicts led these kidglove radicals to split irrevocably, a division that became public in September when the president, Reverend Percy Stickney Grant, resigned along with most of the other officers. The immediate cause seems to have been a controversy over sexual morality. They objected strenuously when it seemed that Rodman and her supporters (described in newspaper reports as "ultraliberal" Greenwich Villagers) expected the organization to take a tolerant attitude toward the practice of free love, the convention‐defying lifestyle to which Rodman subscribed. Rodman's defenders said that club officials had no business condemning her on a matter of private morality, but divisions over this point proved irreconcilable, and the Rodman faction relocated itself to club rooms on MacDougal Street, thus initiating a new era in which the Liberal Club became closely associated with The Masses crowd.

A radical feminist as well as an advocate of women's suffrage, Rodman insisted that suffrage would not be a significant achievement unless women voters adopted more socially progressive views than men. By wearing sandals, smoking in public, keeping her maiden name, and campaigning for legalizing the distribution of birth control information, Rodman challenged many other conventions of her time. She founded a Feminist Alliance that advocated a radical new scheme of cooperative housing for married professional women proposed by Charlotte Perkins Gilman, another leading feminist of the day.

The Liberal Club


From the play:
STEVE : What are you doing, my dear?
HENRIETTA: My paper for the Liberal Club.
STEVE: Your paper on—?
HENRIETTA: On a subject which does not have your sympathy.
STEVE: Oh, I'm not sure I'm wholly out of sympathy with psychoanalysis, Henrietta. You worked it so hard. I couldn't even take a bath without it's meaning something.

The Liberal Club was central to the development of Greenwich Village's political reputation as a haven for Socialist, Communists, and radicals As a result it was also a key factor in the Village's bohemian reputation as an enclave for cultural and social iconoclasts. The club drew like-minded people from all walks of life, and "offered a meeting place where writers, intellectuals, anarchists, socialists, artists, syndicalists, and students mingled and talked and danced".

The Liberal Club met in the cellar below Polly Holliday's restaurant at 137 MacDougal Street and members would usually repair to the dining room after meetings. Hippolyte Havel, who functioned as a waiter and cook, is pictured in the center. Havel claimed to have come up with the idea for a Village bistro where radicals could eat together and talk revolution. He gained notoriety by addressing patrons of the restaurant as "bourgeois pigs" an insult that never failed to please those in search of authentic radical ambience.

The Liberal Club was founded about 1907, as a debating society for socially progressive New Yorkers. When the genteel Liberal Club in 1912 balked at admitting Emma Goldman and the historian W. E. B. Dubois (who had come to the Village from Atlanta to edit the recently founded N.A.A.C.P.ʹs journal) on the grounds of politics (Goldman) and race (Dubois), the bohemian cadre led by free-love advocate Henrietta Rodman (which they didn't like either) bolted and set up their own insistently bohemian Liberal Club.

There was a row of terraced houses on MacDougal between West 4th and West 3rd, all owned by Mrs Jennie Belardi and available for rent. The Provincetown Theater would soon set up in 139 before moving to the larger stable at 133. The Liberal Club rented the first floor of 137 with Polly's restaurant below, and the Boni brothers started the Washington Square Book Shop in 135, soon knocking down the wall to 137 to create a larger space for discussions.

The new club blossomed with conviviality, come‐hither sociability, emancipated talk and liberated sex. The decor stressed the differences of this ʹʹnewʹʹ club for men and women from the Victorian gentlemenʹs or ladiesʹ club: no William Morris wallpaper or deep upholstered furniture. Instead, there were bare wood floors and tables, Cubist and Fauve art on the walls, chairs painted in fiery Futurist oranges and acid yellows. The clientele included young women from the heartland who had fled their families, Jewish socialists, left‐leaning lawyers, at least one Princeton dropout (the playwright Eugene OʹNeill), the golden young Harvard men like Reed and Lippmann, theater people, journalists, poets ‐‐ both famous and aspiring ‐‐ ʹʹall the tin pot revolutionaries and sophomoric advanced thinkers in New York,ʹʹ the curmudgeonly newspaperman H. L. Mencken ‐‐ definitely not in their circle ‐‐ dubbed them.

The crowd gathered in the late afternoons and stayed on, talking, drinking, dancing to the player piano (not mannerly waltzes but the Turkey Trot and the shimmy), drifting downstairs for a meal at Polly Holladayʹs restaurant or a visit to the Boni Brothersʹ Washington Square bookstore next door at No. 135, then back upstairs to listen to talks that ranged from disquisitions on the tango to reports of the latest battle on the labor front. Love affairs materialized and spouses cast off familiar roles to flirt, dance and talk as comrades, friends and colleagues.

This bohemia was in‐dwelling and self‐dramatizing ‐‐ literally so, since the Liberal Clubʹs drama group put the membershipʹs own psychosexual dilemmas onstage in amateur theatricals that coalesced into the Provincetown Playhouse, at 133 Macdougal Street, which stayed in place as a
professional company after the club and its bohemian theater had folded.

The Bookshop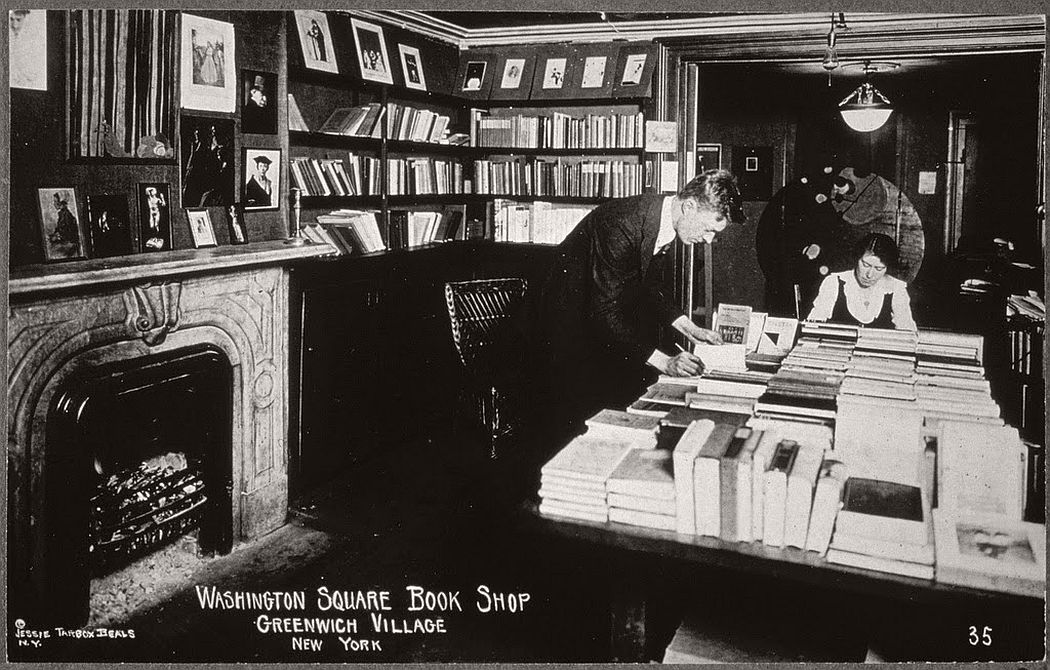 In the play, HENRIETTA advises MABEL, "Well, if he's gone—you might as well stay here. I have a committee meeting at the book-shop, and will have to leave you to yourself for an hour or two."

She is referring to the Washington Square Bookstore at 135 MacDougal Street in 1913.

The shop, owned first by Albert and Charles Boni, became a headquarter for Greenwich Village bohemians, published Des Imagistes ( a collection of works of the 'imagism' movement, edited by Ezra Pound including works by Ford Madox Ford, James Joyce, Amy Lowell, Ezra Pound, Allen Upward, William Carlos Williams) and offered a setting for the founding of the Washington Square Players, the Theatre Guild and the Provincetown Players.

Frank Shay bought it in 1915, which came to be known as "Frank Shay's Bookshop." Shay was prolific and an active member of the New York literary scene. He not only sold and published books, but ran a circulating library, lectured on bookselling, edited volumes of plays for other publishing houses, and even won a prize for his window displays. Most importantly, he cultivated a community: publishers, writers, artists, book collectors, magazine editors, cartoonists, academics, book designers, theater directors and more. Shay was heavily involved in the Little Theater movement as a publisher, producer, and actor, working with members of the Provincetown Players. (See his publication of Constancy and Suppressed Desires, 1916 to the right.)

Freud and the Salons of Bohemia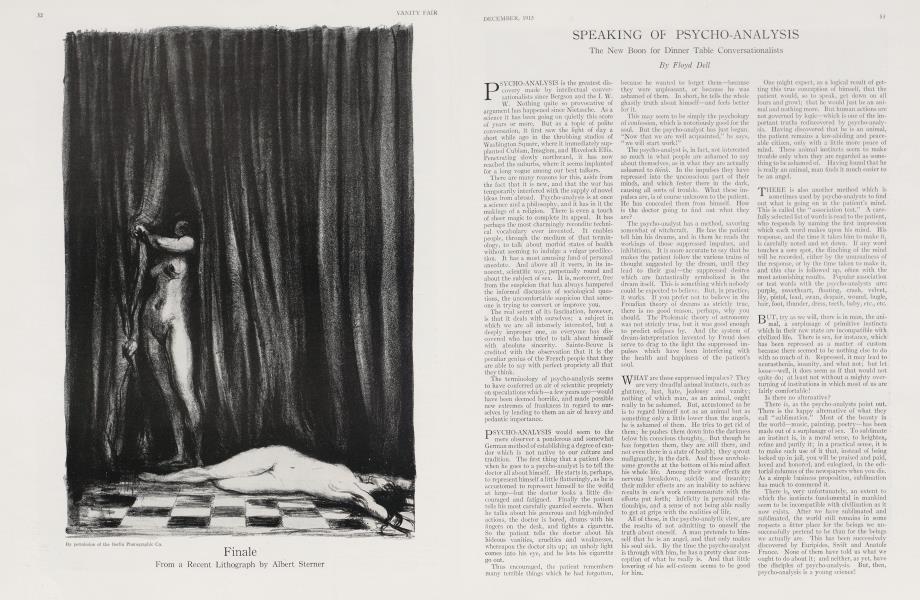 (Left an article in Vanity Fair by Floyd Dell, 1915, Speaking of Psycho-Analysis.) A popularized version of Freud's evolving methods of psychoanalysis widely prevalent in the second decade of the twentieth century is at the core of Suppressed Desires. The audience of friends invited to the first performance of Suppressed Desires would have delighted in all the allusions both to current trends and to the marital problems of common acquaintances.

A little over one hundred years ago, Sigmund Freud arrived in the United States on his first and only visit. As the George Washington pulled into New York Harbor, he supposedly remarked to Carl Jung, who accompanied him, "They don't realize that we are bringing them the plague." His more vociferous contemporary critics would probably agree.

Freud came to deliver five lectures over five days in September 1909 at Clark University. Its president, G. Stanley Hall, had invited a number of leading thinkers to celebrate the 20th anniversary of Clark.
Freud spoke off the cuff from notes to a good crowd. Yet contemporary observers of the Clark lectures did not mention what today would be extraordinary. Freud spoke in German with no translation provided. A century ago, a series of lectures in German neither diminished the audience nor elicited disapproval. In 1909 advanced study usually meant study in Germany. It was assumed the professoriate knew German.


Freud suspected that American prudishness would curtail the reception of his ideas. I think, he wrote to Jung before they departed, that once the Americans "discover the sexual core of our psychological theories they will drop us." Later critics of Freud, especially feminist critics, forget to what extent he showed up as a militant sexual reformer. He wanted to be able to talk about sexual desire and liberalize sexual practices. He made no effort to mute that message. Freud's five lectures closed with a call to allow greater sexual freedom. He said civilization demands "excessive" sexual repression. "We ought not to aim so high that we completely neglect the original animality of our nature." He cautioned that it was not possible to "sublimate" all sexual impulses into cultural accomplishments.

How did Freudian concepts find their way to MacDougal Street?

Mabel Dodge.

She was a major force in bringing psychoanalysis into the conversation of the intelligentsia, securing Freud's presence and influence in modern American cuture. In her salons, in her weekly columns in the syndicated newspapers, and in her exhortations on behalf of A. A. Brill.


By 1916 Mabel had begun intense therapy sessions with A. A. Brill (pictured left, not too distant a name from A. E. Russell, who is the psychoanalyst referred to in the play.) Abraham Brill (October 12, 1874 – March 2, 1948) was an Austrian psychiatrist who was the first practicing psychoanalyst in American and the leading figure in the embyronic American psychoanalytic movement. Brill was also the first person to translate Sigmund Freud's works, such as The Interpretation of Dreams , into English and introduce them in American. Brill's association with Mabel Dodge led him to frequent her Greenwich Village salons, where he met the leading radicals, avant-garde artists, and intellectuals of the era and introduced many of them to psychoanalysis; indeed, in the early twentieth century Mabel Dodge's Greenwich Village salons created the most fertile environment in America to introduce new and different thinking like Freudian psychology into American consciousness.

Suppressed Desires is an engaging response to the craze for psychoanalysis that was then sweeping through Greenwich Village. In her biography of Jig Cook, The Road to the Temple, Glaspell writes: "You could not go out to buy a bun without hearing about some one's complex." She and Cook:

"... thought psychoanalysis would be amusing in a play, so we had a good time writing Suppressed Desires. Before the grate in Milligan Place we tossed the lines back and forth at one another and wondered if anyone else would ever have
as much fun with it as we were having."

Abraham Brill, Freud's translator, noted:

"Another interesting group before whom I poke during the winter of 1913 was at Mabel Dodge's salon ... There I met radicals, litterateurs, artists and philsophers some of whom have influenced the tresd of our times in no small way .. My talk around a very interesting and lively discussion."

Henrietta Brewster refers to The Psychoanalytic Review (see picture left). The Washington Square Book Shop would have stocked the latest periodicals and full-length studies. Floyd Dell who had followed Glaspell and Cook from Davenport, Iowa to New York, and Max Eastman, both on staff at The Masses, and both published essays on psychoanalysis in popular magazines in 1915, Dell in Vanity Fair and Eastman in Eveybody's Magazine.

Eastman had undergone analysis in 1913-14. In Eastman's series of Aricles, which appeared in the June and July issues and thus coincided with the premiere of Suppressed Desires, he traces the basic tenets of Freudian psychoanalysis as well as its impact on contemporary culture. Eastman and Dell both explain that in the New Psychology mental disorder can be traced to suppression of desires and that the uncovering of these hidden wishes lies at the center of the recuperative process. In Eastman's words:

"The theory of it is that countless numbers of diseases that we call nervous or mental are caused by desires which dwell in our minds without our knowing they are there; and that if we can be made clearly aware of these desires, the morbid effects will disappear."








Sources for this article:
https://norman.hrc.utexas.edu/bookshopdoor/home.cfm#1
https://arcg.is/1Di1Cr Bohemian Greenwich Village A Historical-Cultural Mapping Project Lisa Hirschfield February 15, 2020
https://scholarworks.umass.edu/cgi/viewcontent.cgi?referer=https://www.google.com/&httpsredir=1&article=1007&context=umpress_igv