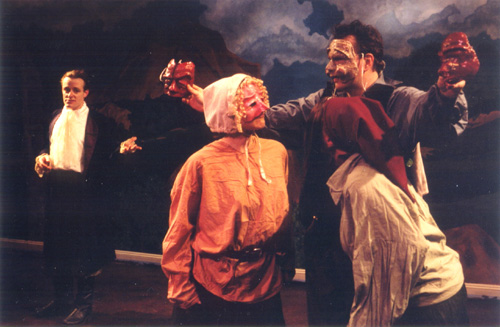 by Martin Denton for nytheatre.com
The spring season at Metropolitan Playhouse this year has been about the notion of faith. Their first offering dealt with it explicitly: The Faith Healer pits a man whose entire life is defined by what he believes to be divine inspiration against others who are more skeptical. Now comes Moliere's Dom Juan, in a sparkling new translation by Alex Roe, and though at first glance it may not seem an obvious companion piece, it proves a far more compelling and urgent consideration of the subject at hand.
For Dom Juan turns out to be the story of a young man who learns, too late, that a life lived without faith in something bigger than oneself may not be worth living at all. Don Juan's philosophy is based on self-actualization and only that: he's presented here not as a callow hedonist but as an intelligent individual whose belief system precludes any sort of higher power or spiritual existence. He lives according to a kind of moral code (of his own design), but his guiding principle is clearly to do what he wants when he wants, consequences be damned.
Roe does not shy from the notion that Don Juan's world view is shared by an awful lot of powerful people living in the world today; this gives the play a resonance that might surprise you. At the same time, Roe presents the piece not as polemic or allegory but as comedy, high and low, and the laughs flow easily and plentifully in his whimsically theatrical staging. Don Juan and his valet Sganarelle are each portrayed by a single actor (Tom Staggs and George Sheffey, respectively, both of whom are terrific). The other numerous characters are played by just three other actors, the remarkably versatile Stacey Cervellino, Sean Dill, and Stephanie Dorian. Together, they bring to life a diverse rosters of lovers, fools, and rogues, ranging from the irate, soon-to-be-shunned lady Charlotte (Cervellino) to Don Juan's hapless creditor M. Dimanche (Dorian) to a spectral Statue (Dill) who helps our protagonist learn the error of his ways.
It all adds up to a comic feast. Roe and collaborators Abby Smith and Asaf Ronen have fashioned deliciously expressive masks for the actors, a device that almost never works but here succeeds beautifully. Best of all is a suitcase full of masks for the Don himself, allowing him to put, so to speak, the proper face on for any occasion. Roe and Staggs have fun playing with them: there's a stunning moment in Act Two when Staggs's Don Juan, wearing different masks on either side of his head, becomes a literal embodiment of the term "two-faced."
Sheffey, meanwhile, gives a superb performance of Bugs Bunny-ish guilelessness and energy: watch, for example, his instantaneous, silent transition from valet to personal trainer as he prepares his master for a duel with an unexpected enemy.
Dom Juan moves lightly but incisively through adventures of women won and women spurned, honor assaulted and honor avenged. It's satire of the purest type: funny on the surface, pointed underneath. Finally, Dom Juan tells the truth about the human condition. There's plenty to laugh about during the two hours we're sitting in the theatre, and plenty more to think about after you get home.

Theatre Review by Matthew Murray
Don Juan, the extremely talented lothario, has been the subject of many works in all media. Even Moliere, the great French playwright who wrote Tartuffe and The Misanthrope (among many others) took a crack at him.
A production of his interpretation of the character, titled Dom Juan, opened last night at the Metropolitan Playhouse, translated and directed by Alex Roe. Moliere's version of the story follows Don Juan through his sexual exploits and abuses, and eventual retribution for his sins. Moliere's Dom Juan is dark, a bleaker and less romantic telling than many might be expecting.
Roe seems to have taken his directorial cues primarily from a line that occurs late in the show about everyone wearing masks of different sorts. He has then, centered his production heavily around the use of masks. These masks, created by Roe, Asaf Ronen, and Abby Smith, are beautifully designed, displaying a wide range of colors and emotions that are donned by various characters at different times during the show.
The masks are, at certain times, effective. When Don Juan (Tom Staggs) and his valet Sganarelle (George Sheffey) visit the tomb of a man Don Juan had killed the year before, two actresses, bedecked in featureless white masks, make intriguing statues that add greatly to the creepy effect Roe wants to capture. Sganarelle has a jovial brown mask he wears frequently that accents his character well, and an eyeless plastic mask serves Don Juan himself well when blind deception is the order of the day.
But Roe seems to enjoy playing with the masks a bit too much. There is one heavily choreographed scene in which Don Juan attempts to deal with two women simultaneously, both of whom talk to two identical masks held up by Sganarelle, while Don Juan himself works on the other women, or stands coolly removed from them both. It's an excessive moment, one that doesn't work particularly well for the production or communicating the show's ideas.
The production's five actors, when not involved in mask play, mostly come across well, with only Staggs and Sheffey not doubling roles. Stacey Cervellino, Sean Dill, and Stephanie Dorian all turn in a wide variety of performances in a wide variety of roles. They're usually funny, but almost always understated. Sheffey is effective as the comic Sganarelle who slowly begins to wake to his master's ways, but Stagg, while he has a good command of the language, never comes across as the irresistibly charming and seductive paramour as Moliere defined him.
With that necessary core element removed, Roe's production comes across with a much more uncertain air, making this Dom Juan more a fantasy than a cutting social satire. The masks do play into this, further establishing the production's fantastical air and resulting in a more labored Dom Juan, albeit one where the story still comes across.
It's not until the final scene - strikingly staged and performed - that the points, for Don Juan and for us, are really driven home, and this Dom Juan achieves its full potential. Roe may have taken too long getting there, but in this case, the destination more than made up for the journey.