nytheatre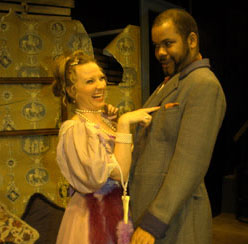 by Martin Denton for nytheatre.com · April 13, 2003

Fashion is, I believe, the oldest American play I have ever seen. There aren't very many older ones; certainly not many that would seem worth doing apart from their curiosity value. Fashion, which was written by Anna Cora Mowatt in 1845, is absolutely worth doing, as Alex Roe's present production at Metropolitan Playhouse indisputably proves. Not only does it offer a fascinating and unique glimpse at the American Character--a useful exercise at any time but a particularly appropriate one these days, I'd say--but it also proves to be a surprisingly modern, entertaining comedy of manners. Oh it's dated all right, but Roe and his spirited cast play it just broadly enough--big, but with no winking--to make Fashion a merry evening of theatre.

It all takes place in the too-grand-for-its-own-good home of Mr. and Mrs. Tiffany in New York City. He was once a traveling peddler who sold goods from a pack on his back; she worked in a millinery shop in the Lower East Side. Prosperity has made him into a nervous entrepreneur and her into an overblown poseur whose pretensions and extravagances have driven her husband to commit forgery in an attempt to pay the mounting bills. Mrs. Tiffany lives for Fashion; she has imported a French maid named Millenette to apprise her of all the latest trends in Parisian haute couture; she speaks an affected parlance littered with mispronounced French phrases and fawns shamelessly over Count Jolimaitre, the handsome, heavily-accented, mustachioed grandee who is wooing her giddy daughter Seraphina.

Of course, Jolimaitre is a fake; we figure this out even before Millanette telegraphs it to us when she recognizes him as her former lover, a one-time cook. The so-called Count also makes the moves on Gertrude, the plainspoken young woman who works in Mrs. Tiffany's conservatory; Gertrude, who is just about the only character in the play entirely without affectation, bungles her plan to expose Jolimaitre as a fake and winds up in hot water with Colonel Howard, the man who loves her. Oh, and I haven't mentioned Mr. Snobson, the scheming clerk who is blackmailing Mr. Tiffany, threatening to expose his boss's crimes unless he is allowed to marry Seraphina himself.

The day is saved for everyone concerned by Adam Trueman, the none-too-subtly named 72-year-old farmer who just happens to be visiting the Tiffanys when all of these convoluted occurrences occur. Trueman, in buckskin and raccoon fur hat, is the only person in the play not somehow or other enslaved by Fashion, as he is wont to remind anyone who will listen; he's the one "true American" in sight, embodying the principles of rugged individualism, honesty, hard work, and unadorned simplicity. He is, frankly, insufferable; it's absolutely fascinating to look at this presumed paragon of ante-bellum virtue and compare his values to our own.

Which is the point of Roe's revival of Fashion: his staging offers just enough wry commentary on Mowatt's play to help us focus on what it seems to have stood for. He's cast an African American actor, Henry Afro-Bradley, as Trueman, to provide a hint of irony; he's also cast the hilariously over-the-top Tod Mason as Mrs. Tiffany, who, despite the hair on his arms, performs here decidedly not as a drag artist--his vaguely brutish bravado seems entirely natural, even essential to the character (his casting feels as on target as Harvey Fierstein's in Hairspray).

The ace up Roe's casting sleeve is the remarkable Matt Daniels as Zeke, the Tiffanys' brand new Negro butler. Daniels appears to us initially in what looks like blackface makeup, which shocks; he wipes it off his face (it turns out to be coal dust) and then proceeds to behave, sans burnt cork, exactly as the white actor who played Zeke in 1845 almost certainly did, which is to say in the buffoonish, broadly comic manner of the minstrel show. This is a daring idea that works brilliantly, helping us observe both how far we've come and how far we've still to go with regard to racial and other kinds of politics here in the land of the free.

Other cast members who need to be mentioned here include Stephanie Dorian, who is a riot as Seraphina, defining this foolish young woman with an impossible braying laugh. Sean Kenin is eel-slippery as the phony French Count Jolimaitre, and Erika Bailey is smashingly earnest as heroic young Gertrude. Jon-Michael Hernandez exhibits expert comic timing in his scenes as Colonel Howard.

The set, designed by Brian Jones and the director, is terrific, with a broken-down bathtub--a metaphor if ever there was one--as its central, dominant element. It converts into Mr. Tiffany's desk and a plant stand in Mrs. Tiffany's conservatory; even more ingeniously, a pair of framed paintings on the rear wall convert into Millenette's bed. Neat.

Roe and his collaborators are to be congratulated on finding such felicitous ways to make a 158-year-old play feel accessible and modern. Of course, some of Fashion's sensibilities aren't so different from our own, which is why this is such a useful and interesting play to see.



TheatreScene.net

Reviewed by Robert Windeler
Anna Cora Mowatt (1819-70) was both very much of her time and ahead of her time. As a member of New York City's mid-19th -century meritocracy (her father was a prosperous merchant) who became a noted writer and actress, she was in a perfect place to observe arriviste society up close and to skewer it sublimely in this 1845 play, her best-known work. The wonder is, more than 150 years later, how little some people's social pretensions and slavish devotion to fashion, preferably from abroad, have changed. In its language and setting, Fashion may be dated, but in its satire it's up-to-the-minute.
Mowatt, who had read all of Shakespeare by the time she was ten but is more a literary descendent of Richard Brinsley Sheridan (one of her characters here is a Mr. Snobson), made it respectable for American women of her time and class to write—and later to act. She played Sheridan's Lady Teazle and Shakespeare's Beatrice, even touring for two seasons, which respectable ladies just didn't do when James K. Polk was President and Gramercy Park was the north end of the city. No less a theatre critic than Edgar Allan Poe, after paying tribute to Mowatt's many physical attributes, wrote that "Her manner on the stage is distinguished by an ease and self-possession." With notices like that it's not surprising that Mowatt survived the kerosene circuit, and Fashion, with her social credentials intact. Later gentlewomen such as Edith Wharton who wrote what they knew owe Mowatt a debt of thanks.
In the play, Mrs. Tiffany (the name was no accident; the jewelry store opened in 1837) is a former milliner who married well above her station. Mr. Tiffany is a hard-working but venal businessman who's been caught with his hand in the till—at least by his clerk, the aforementioned Mr. Snobson--and may face ruin. Snobson, not content with milking his employer for money, now wants to marry the Tiffanys' daughter Seraphina. But Mrs. Tiffany wants to marry her daughter off to the clearly phony Count Jolimaitre, who, like Mrs. Tiffany's clothes and much of her mangled speech, is purportedly French. Mrs. Tiffany gets most of her fashion and entertaining tips from her maid Millenette. Completing the menagerie are Mrs. Tiffany's sister Prudence, a nosy predator who doesn't try to hide her millinery background; the footman Zeke (whom Mrs. T tries to rechristen Adolph); Gertrude, a sort of governess who is the sane center of the frenzy; her admirer, Colonel Howard; and Adam Trueman, a mysterious, anti-fashion everymoralist who nonetheless has a dark secret of his own
Heavily influenced by French farce, with only a hint of melodrama, "Fashion" sprints to a mostly predictable, mostly upbeat ending, or at least a calmer social stasis. Director Alex Roe has cast a knowing sheen over his admirably committed players. Non-traditional casting neither adds much nor detracts from this production, since most of the characters as written are figures of fun. A man, Tod Mason, makes an effectively pseudosnobby Mrs. Tiffany. Matt Daniels is a white man playing the black servant Zeke with a hint of blackface and a broader debt to minstrelsy. Two black men play parts written for whites: Karl Williams as Snobson proves that blackmail knows no race, and Henry Afro-Bradley, at first comical in a Davy Crockett coonskin cap, makes more sense than almost anyone else on stage as he goes along. Jon-Michael Hernandez is both Hispanic and physically challenged but it makes not a whit of difference, and one of his canes provides a nifty dueling weapon for his contretemps with the deliciously low no-count (Sean Kenin). Like Kenin's casting, that of Stephanie Dorian as Seraphina, Sylvia Norman as Prudence and Sean Dill as Mr. Tiffany are both traditional and apt. Erika Bailey as Gertrude, a part once played by Mowatt herself, shimmers in her journey from household mouse to fierce would-be protector of her charge, to surprise offspring and deserving fiancée.
The production's design elements are uncommonly strong for a clearly limited budget. The costumes by Anna-Alisa V. Belous seem as correct for their period as they are comical. The set design by Roe and Brian Jones is inventive—I would move the pre-Murphy Bed disguised by two portraits into my apartment tomorrow—although the center-stage bathtub is never explained. As a new invention of the period is it symbolic of real progress and a worthy fashion, or is it mostly to catch a drip of water coming down from a deliberately unfinished chandelier?
The Metropolitan Playhouse has a stated mission to explore the American theatrical legacy with lesser known plays. Based on this production, at least, they seem to be on to a good thing.