By RACHEL SALTZ
Published: November 17, 2007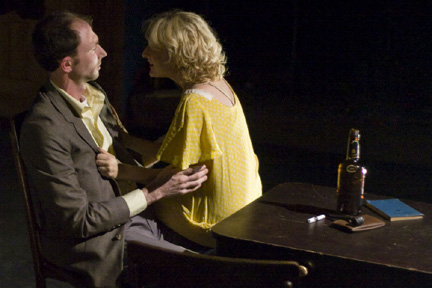 The early, little-known Eugene O'Neill one-acts presented as "The Pioneer" by the Metropolitan Playhouse show the playwright's dramatic universe in embryo. Here, born battling, are all the downtrodden and trapped who grope for meaning in his world: the prostitutes, pimps and pipe-dreamers, sailors and drunks, mismatched husbands and wives.

The plays are rich but not particularly subtle. When they work, they work by blunt force. "Before Breakfast" is a wife's aria of misery delivered to her husband, an alcoholic, unsuccessful poet and deadbeat (and a Harvard man to boot). Sidney Fortner manages to make the wife — a Fury on the page — credibly sympathetic, though by muting the character's anger, she somewhat flattens the play.

"Ile" concerns two power struggles on a whaler stuck in icy seas. One is between the obsessive captain and his mutinous crew; the other between the captain and his wife, who wants him to turn the ship around. In the cynical comedy "Movie Man," Mexican revolutionaries do their fighting for the cameras of an American motion picture company. As the fast-talking sharpie who runs the company, Michael Hardart has a Cagneyish flair and gives the hard-boiled dialogue bite. The revolutionary — Pancho Gomez, no less — leers and staggers around drunk, never rising above ethnic cliché.

The first three plays are interesting, but "The Web," another story of a woman done dirt by fate, is wonderful. Rose (Keri Setaro) is a consumptive prostitute on the Lower East Side. Menaced by her brutal pimp (Andrew Firda), she falls in love with the thief next door, Tim (David Patrick Ford), who rushes in to protect her.

The actors, also seen in "Ile" and "Movie Man," suddenly come alive here. With her big eyes and little bow mouth, Ms. Setaro has a silent-screen face perfect for Rose, and she gets at the character's toughness and vulnerability. Mr. Ford's gallant thief is thoroughly decent. When the two start dreaming of a future together, it's heartbreaking.

"Yuh don't know the game I'm up against," Rose says to Tim. O'Neill does, though. The real pleasure of "The Pioneer," smoothly directed by Mark Harborth, is its portrait of the young playwright. What comes through strongest is his sympathy for down-and-outers and his instinctive understanding of what makes a play tick: no one had to tell O'Neill that drama is conflict.


by Martin Denton · November 12, 2007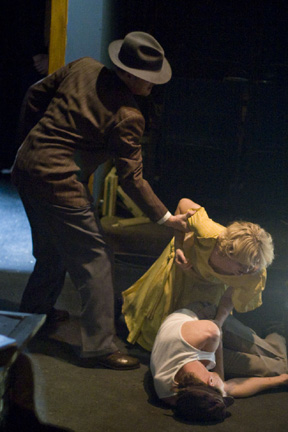 In the mid-1910s, while his contemporaries were creating simple-minded comedies like Potash and Perlmutter or fairy tale romances like Daddy Long Legs, young Eugene O'Neill was experimenting with the then-revolutionary one-act play form and writing about the psychological and sexual lives of rowdy people of the streets and the seas. He was learning a craft that he would become master of within a decade, and pointing the way toward what American drama could be. He was, indeed, a pioneer, and so Metropolitan Playhouse's invaluable look at four of these early, rarely seen O'Neill shorts is thus aptly titled.

There's a real treasure on this bill, "The Movie Man," from 1914. It takes place in Mexico, during a revolution being led by Pancho Gomez (one imagines that O'Neill has based this character on Pancho Villa, who was leading his own rebellion against the Mexican government at the same time). Gomez, though, is being financed by an American movie company, whose representative, Henry Rodgers, is filming the revolution. How prescient is that? The plot of "The Movie Man" revolves specifically around a young Mexican woman, Anita Fernandez, whose father is about to be shot by Gomez. Rodgers, struck by this young woman's authenticity (but not interested in her romantically), uses his leverage to save her father; the way this actually plays out is deliciously sly and cynical, and will not be disclosed here.

The play is funny and smart and decades ahead of its time. Rodgers is a grand creation, sort of like the James Tyrone of A Moon for the Misbegotten without the drunken binges and self-recrimination—just a shrewd, cool, detached guy. Michael Hardart is terrific in the role, with able support offered by Keri Setaro as Anita and Ron Dreyer as Gomez. The Movie Man is the triumph of The Pioneer and deserves to be seen not just by O'Neill buffs but pretty much everybody.

But you won't be disappointed by the other items on the program, especially if you maintain perspective about how they anticipate not only O'Neill's later work but the explosion in socially conscious American drama that was just a few years off. "Before Breakfast" (1916) is a solo play featuring the nagging, slatternly wife of a rich-man-gone-to-seed; her monologue, a low-key tirade delivered to her offstage husband while she prepares and serves breakfast, may prove to be the last straw for him. "Ile" (1917; pronounce that title with a long "i") takes place on a whaling ship that Ahab-ish Captain Keeney is determined to drive through an ice floe to find the whale oil (pronounced "ile") that has eluded him for two years. The milieus of some of O'Neill's later, better plays may have their genesis in these two: Anna Christie's whalers, certainly; and the drunken wastrels of Iceman Cometh, perhaps, as well. O'Neill is just finding his voice and his bearings here, and neither play can be judged a resounding dramatic success. And the actors, under Mark Harborth's careful direction, may be underplaying the big, raw emotions that O'Neill seems to be going for. Nonetheless, it's interesting to see these pieces.

Even more fascinating is the remarkable fourth play, "The Web" (1913), a heaving soap opera involving a prostitute, her brutish pimp, her baby,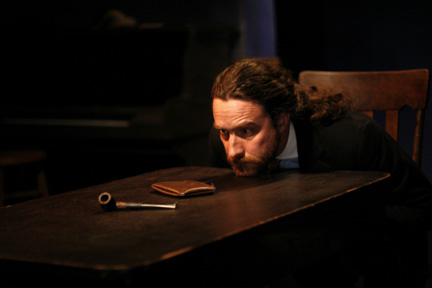 and a sympathetic bank robber. Setaro (as Rose, the working girl), Andrew Firda (as Steve, her fierce boss), and David Patrick Ford (as the crook, Tim Moran) deliver sterling performances in a work that by rights should be unplayable. O'Neill piles up the obstacles against his heroine's deliverance in a manner that would read as campy nowadays if we weren't aware of its earnestness and its dangerous earthiness in pre-World-War-I American society.

Following the four plays there'sa charming coda, in the form of a monologue called "The Last Will and Testament of Silverdene Emblem O'Neill." I hate to spoil the secret of this delightful piece, which is as gentle and loving and sentimental as anything O'Neill ever composed. I will say that Alex Roe, Metropolitan's artistic director, delivers a fine, fine performance as the title character, throwing himself into it with spirit, grace, and good humor.

One of the nifty things about the program as a whole is the seamless way director Harborth has put it together, with each play sort of dissolving into the next one without any kind of fussy transition. Any company interested in finding out how an evening on one-acts should be mounted can learn something from the way The Pioneer has been put together. Scenic elements (by Harborth) are spare but effective, costumes (by Beverly Bullock) are appropriate (Roe's costume in "Last Will and Testament" is especially on-target), and lighting by Maryvel Bergen is evocative though simple.

The Pioneer is instructive and invaluable, but more than that it's extremely entertaining. What a treat: we get to see some genuine rarities from the first great modern American dramatist, and we get to lose ourselves in a variety of involving stories, too.




Reviewed by Marc Miller
Published on BackStage.com on November 19, 2007.

The first image in The Pioneer, five Eugene O'Neill one-acts, is, fittingly, a slattern sneaking a snort of booze. Before Breakfast is the monologue of Mrs. Rowland (Sidney Fortner), a disappointed hausfrau who's in for a shock. She's ranting at her wastrel spouse offstage, an unfaithful, unemployed, alcoholic Harvard man. Straightaway we know we're in O'Neill territory: downtrodden, disillusioned, and drinking. The anguish here (and in the other early one-acts) isn't as eloquent as in better-known O'Neill, and Fortner's nattering delivery is a bit surfacey. But with its pipe dreams, lyricism, and hovering specter of death, Before Breakfast recognizably presages The Iceman Cometh and other classics.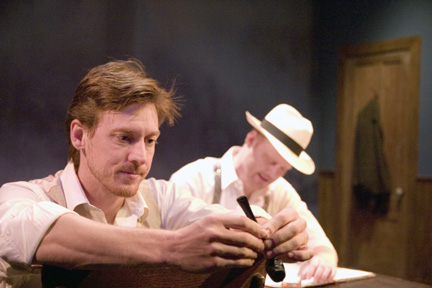 Not that the swiftly paced evening is unrelieved despair—or all typical O'Neill. The Movie Man is a wry satire, with a Hollywood camera crew interfering in a Mexican revolution. Who knew O'Neill could indulge in such rowdy, politically incorrect comedy, or concoct lines like "She had the swellest lamps I ever seen on a dame"?

Ile (as in oil pronounced with a severe Irish accent) has brutal Captain Keeney (Andrew Firda) prolonging a miserable whaling voyage, tempting mutiny, and driving his gentle wife (Keri Setaro) mad. It may remind you of Jack London, Herman Melville, or even O'Neill's sea plays. The Web is reminiscent of early '30s Warner Bros.—a tubercular prostitute (Setaro) is rescued from her abusive pimp (Firda) by a softhearted crook (David Patrick Ford)—evoking sympathy for characters most circa-1916 theatregoers would have shunned. Most surprising is The Last Will and Testament of Silverdene Emblem O'Neill, in which the author imagines the will of a late, beloved family Dalmatian (Alex Roe). Whimsical and tender, it lets O'Neill riff on death and human folly in a most uncharacteristic, Twain-like manner.

Smoothly directed by Mark Harborth, this quintet offers plenty of juicy acting opportunities, with Ford and Setaro coming off best. If it's not as full a meal as a Long Day's Journey Into Night, it's a welcome sampler of a genius developing his voice.