Reviewed by Martin Denton · October 6, 2005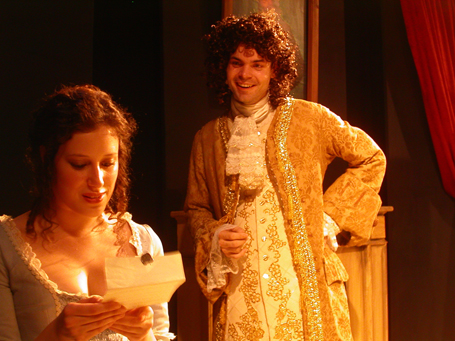 There are several companies in New York City that specialize in unearthing the buried treasures of our theatrical past, and the results of their digging are almost always edifying and/or entertaining. But only once in a great while does something authentically golden turn up—usually the gems rediscovered in these theatres are less valuable or more rarefied. So the revival of Percy MacKaye's
The Scarecrow
at Metropolitan Playhouse is cause for more than the usual amount of excitement and celebration, because this charming, touching play, written in 1910, is no mere curiosity or period piece: it's a neglected American classic. Bravo to Alex Roe, Metropolitan's artistic director (also at the helm of this production) for putting this splendid work back on the New York stage.
Based on a story by Nathaniel Hawthorne,
The Scarecrow
takes place in a Massachusetts town in the late 1600s, about the time of the Salem witch trials. Here, Goody Bess Rickby operates a blacksmith shop; she's something of an outsider, thought by many to engage in the black arts. Nevertheless, her beautiful and pure (but willful) neighbor, Rachel Merton, turns up at Goody Rickby's to buy a mirror from her—a "glass of truth" that holds, behind its curtain, secrets that will help Rachel know that the man she loves and is about to marry, Squire Richard Talbot, is honest and faithful.
Goody Rickby has a history with the Merton family: 20 years ago, she was romantically involved with Rachel's uncle, and though unmarried they had a child together. Merton abandoned them; the boy died while still an infant, and Goody Rickby's grudge against her faithless lover has grown across the years into an obsessive desire for vengeance. Rachel's purchase starts the wheels turning for a scheme designed to exact just that from Merton, who has since become a judge and therefore an important personage in the town.
Now here's the thing I haven't yet told you, the thing that makes
The Scarecrow
so delicious and so atypical for its era: Goody Rickby is, in fact, a witch. She's in league with a demon named Dickon (who, when we first meet him, has a pair of tiny horns on his forehead); this fellow, who may be Satan himself, helps Goody Rickby hatch the plot that will bring about Justice Merton's downfall (and, true to devilish form, wreck a number of other more or less innocent lives as well). Dickon animates the pumpkin-headed scarecrow that Goody Rickby has just finished building for her garden. Christened Jack, the scarecrow comes to life and becomes the son that Goody Rickby lost two decades before. Jack's mission, under Dickon's firm guidance, is to woo Rachel away from her squire, to precipitate the downfall of the hypocritical Merton.
To give away more of what happens here would be shameful—see
The Scarecrow
to find out how this supernatural tale spins itself out. Because MacKaye has filled his play with very modern characters, a lot of what ensues is actually quite surprising. A few authentically heroic figures emerge and most wicked thoughts and deeds are indeed punished; but the Devil is the Devil, and his ways are ultimately both inscrutable and implacable.
Roe's production is probably the most ambitious ever undertaken by the theatre, with loads of special effects (some of them quite niftily effective), impressively rich costumes (designed by Rayna Smith), and a serviceable and relatively complicated set by Ryan Scott. The ensemble includes a dozen actors, with several Metropolitan veterans on hand in supporting roles, such as the very funny Jeff Pagliano (as Squire Talbot's rather foppish second) and the invaluable Matthew Trumbull (as two servants, Goody Rickby's sly helper and Mistress Merton's rather dim one). Ian Gould, last seen here in
The Devil's Disciple
, is terrific as the Devil, conjuring fire and mischief out of thin air with a combination of glee and unmitigated malice that almost feels melancholy. Avery Clark and Melissa Miller, both new to the company, make as appealing a pair of leads as one could hope for: Clark in particular is quite a find, beautifully negotiating Jack's tender journey from a newborn (but fully grown) man adjusting to his suddenly human legs and arms, to a mature individual learning responsibility and morality as he adjusts to the pain that comes with a human heart.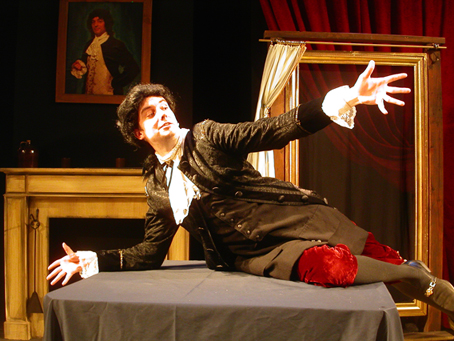 The production is not without its imperfections, but these can easily be overlooked—simply for giving us the opportunity to see MacKaye's play (it hasn't been done in New York, as far as we know, for more than 30 years), Roe and his colleagues have earned their place of preference in this busy fall season.
The Scarecrow
offers a sharp and occasionally whimsical glimpse at our past—not just the superstitious days of the Salem Era, but the buoyant optimism and innocence of both Hawthorne's time and MacKaye's (the character of Squire Talbot, well-performed here by Andy Macdonald, is cut from the same cloth as the classic "Yankee" of American popular mythology, from Johnny Appleseed to George M. Cohan). It's also funny, heart-warming, and occasionally even wise. What more do we ever need from theatre than all of that?