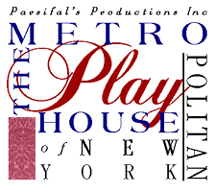 Metropolitan Playhouse
The American Legacy
220 East Fourth Street ~ New York, New York 10009
Office: 212 995 8410 ~ Tickets: 212 995 5302

"One of my favorite downtown theaters" ~ Martin Denton, nytheatre.com

Directed by Alex Roe
Stage Managed by Livia Hill
Costume Design by Megan Ann Richardson
Sound and Music by Ryan Homsey

Starring:

Michael Durkin*, Jeanmarie Esposito*, David Patrick Ford*, Sam Gordon*, Michael Hardart*, Gregory Jones*, Mikel Sarah Lambert*, Oliva Lawrence*, J. M. McDonough*,

Brian Richardson*,

and John Tobias*.





* Denotes members of Actors Equity Association.
Year One of The Empire is an AEA approved showcase

Talk Backs every Sunday
with Elinor Fuchs, Joyce Antler, Alex Roe and:


Sunday, March 9:
- Marilyn Young, Professor of History at NYU
Sunday, March 16:
-Martin Duberman, American historian and playwright
Sunday, March 23:
- Randy Gener, senior editor of American Theatre magazine
Sunday, March 30:


Moderated by Carol Martin, Associate Professor of Drama at NYU



- Paul Kramer, Associate Professor of History at the University of Iowa
-
Thomas Brinson
,
facilitator, Long Island Veterans For Peace, Chapter 138
For more information on the Post Show Talkbacks as well as the Special Panel talk, please click
here
.
Special Event
Monday, March 10 at 6:30pm:
Martin E. Segal Theatre at CUNY (365 Fifth Avenue) hosts a
FREE panel discussion and a performance of scenes from
YEAR ONE OF THE EMPIRE.

Panelists Include:


Elinor Fuchs,

CoAuthor of

Year One of the Empire




Joyce Antler,
CoAuthor of

Year One of the Empire
Alex Roe,

Director of
Year One of the Empire
David Nasaw,
Professor of American History
Neil Smith,
Professor of Anthropology and Geography

Moderated By
Alisa Solomon
Director of the Arts and Culture Program at
Columbia School of Journalism.